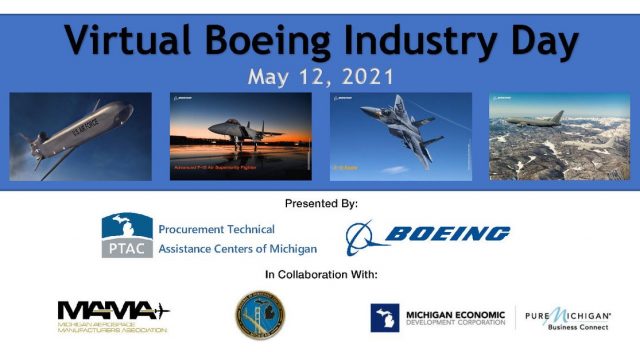 On May 12, Boeing is hosting a virtual industry day for prospective vendors interested in doing business with the aerospace giant. The event is being presented by the Procurement Technical Assistance Centers (PTACs) of Michigan, in collaboration with Pure Michigan Business Connect (PMBC), Michigan Aerospace Manufacturers Association (MAMA) and Association of United States Army (AUSA).
Following the webinar, PMBC will administer pre-selected, one-on-one meetings with Boeing procurement team members.
"Boeing Industry Day presents a unique opportunity for businesses across the state to present their capabilities to one of the largest companies in the world," said Jasmine McKenney, Region 6 PTAC program manager at the Flint & Genesee Chamber. "Boeing is committed to diversifying its supplier base and Michigan is the prime location for the company to do just that. Many of the automotive suppliers have the right infrastructure to pivot seamlessly into the aerospace supply chain. This industry day is the perfect opportunity for the exploration of that market."
The Region 6 PTAC is also hosting a prep day for companies that may have questions on how to prepare for the bid. The prep session will be held at 2 p.m. April 29. Click here to register for the prep session.