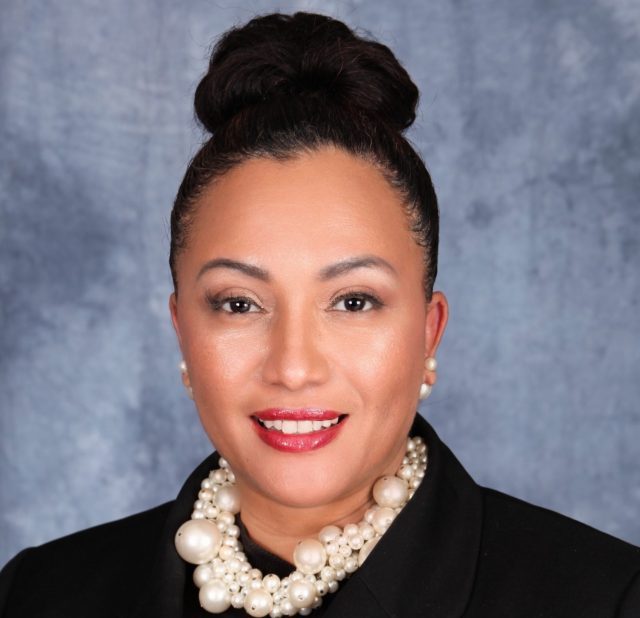 Gov. Gretchen Whitmer appointed Angela Hood-Beaugard, of Flint, to the Child Lead Exposure Elimination Commission. Hood-Beaugard, executive director of the Flint & Genesee Literacy Network, was appointed to represent the general public for a term that runs Feb. 18, 2021, to Dec. 15, 2023. She succeeds the late Danielle Brown. The 15-member commission advises the governor, director of the Dept. of Health and Human Services and various other stakeholders about programs and policies related to the elimination of child lead exposure.
****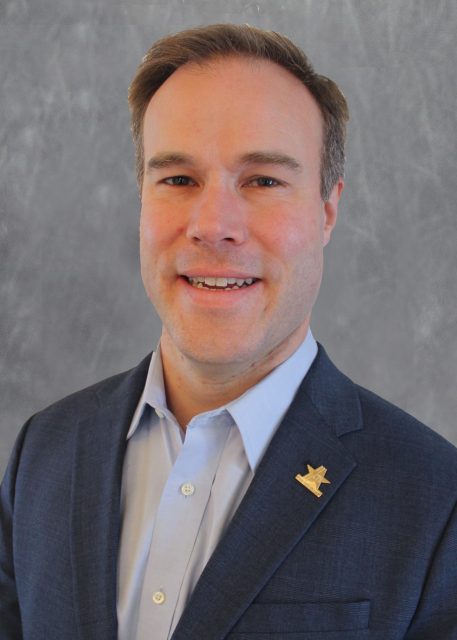 The Flint & Genesee Chamber announced Andrew Younger as the new director of Member Services. Younger is formerly the race director for the Crim Fitness Foundation. Prior to that he was a marketing and communications manager at SmithBucklin Corp. in Chicago. A Flint native, he holds a Bachelor's degree in environmental policy from the University of Michigan in Ann Arbor, and an MBA from Loyola University Chicago Graduate School of Business.
****
Andrews Hooper Pavlik PLC (AHP) announced the merger with Flint-based Fromholz, Paauwe & Baker, P.C., effective Jan. 1. The addition of the new office brings AHP to ten offices throughout the state of Michigan and 175 team members.
"In relation to our other offices, it makes sense to broaden our footprint to the Flint area," said AHP managing partner, William J. Mulders Jr., CPA, CVA, CGMA. "Merging with a firm that offers the same client-focused philosophy as our own makes this merger even more beneficial to both firms and our clients".
All team members in the Flint office will continue to provide quality service to their clients from the same location of 5080 W. Bristol Road.  "I am excited to offer our clients the wider array of business solutions that comes from a merger with a firm such as AHP. Even more advantageous is that we can do this while maintaining the same level of service our clients have come to expect from FPB", said Carroll G. Baker, CPA, partner at Fromholz, Paauwe & Baker, P.C.
****
ELGA Credit Union on Feb. 15 celebrated its 70th anniversary. ELGA was founded Feb. 15, 1951, to serve employees of Consumers Power Co., known now as Consumers Energy. The name ELGA is derived from the first two letters of electrical and gas. Today, the credit union, which has nearly 80,000 members, likes to say its name stands for "Everyone Loves Goals Achieved."
****
The Ruth Mott Foundation announced an extension of its commitment to focus on north Flint for at least another five years.
Launched in 2016, the Foundation's place-based strategy focuses on north Flint residents' top four priorities—youth, public safety, economic opportunity, and neighborhoods—chosen and reaffirmed by hundreds at forums across the northern half of the city. For the next five years of the plan, through 2025, the Foundation will continue to seek feedback from residents on those priorities and the themes within them, including blight elimination, neighborhood centers, and job training, among others.
"We knew that shifting to a more focused place-based approach in Flint would require a long-term commitment—and that was before the water crisis and before COVID-19," said President Raquel Thueme. "As we renew our commitment to north Flint, we pledge to continue listening to the people who live and work here and directing our resources within the neighborhoods and priorities that need them the most." News release
****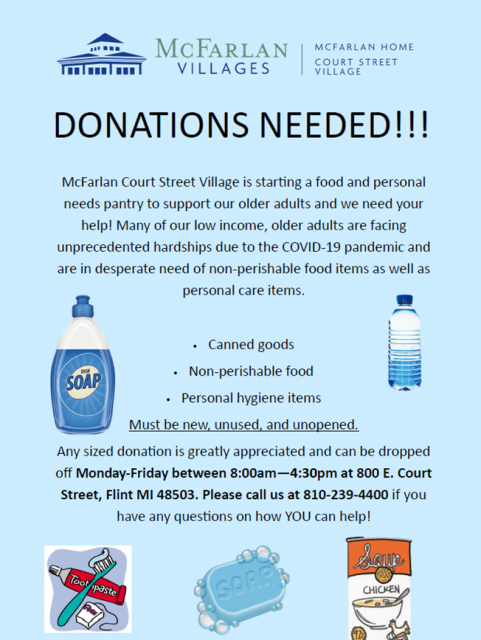 Court Street Village is now opening its first food and personal needs pantry that will serve over 250 older adults in the Flint area. It is seeking donations of all sizes that will help get this program started and provide support to its seniors. At this time, Court Street Village requests non-perishable food and personal care items. For questions and additional information, please call 810-239-4400.
****
Send submissions for personnel updates to . Photos are optional.