The challenging times we are facing with the ongoing public health emergency reinforce the critical importance of completing the 2020 Census. By now, you should have received instructions for how to complete the Census questionnaire. It takes about 5-10 minutes to complete online.
Every person counted means more funding for public health, disease prevention, senior citizen programs, public safety, emergency services and more for Michigan. So do your part to help make a difference. Be counted because it matters to us all.
Why is an accurate Census count important to business and community?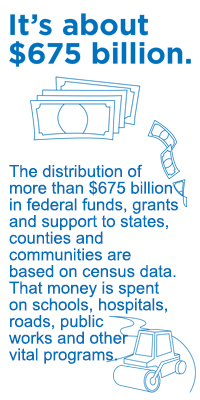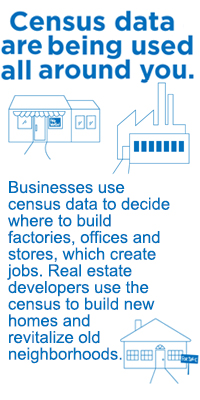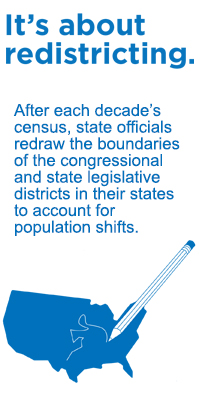 The 2020 Census is closer than you think!
Frequently Asked Questions
Why is the Census important?
The 2020 Census affects the lives of every person in the United States. Every 10 years the U.S. Census Bureau counts every person to determine the population size for every U.S. state, county and community. This is important because a significant amount of funding is allocated based on population size. For example:
For every person not counted, Michigan will lose $1,800 for 10 years.
40 percent of Michigan's budget comes from federal funds allocated by census data
Census data determines how many seats Michigan has in the House of Representatives
Also, securing an accurate count of Flint and Genesee County residents is vitally important to ensure that our region receives its share of dollars allocated to provide critical services such as health care, K-12 education, housing, infrastructure and many other programs.
From a business perspective, census data influences where businesses choose to invest and build new facilities; grant funding distributed for economic development; and where developers build homes and revitalize neighborhoods.
When will the 2020 Census begin?
Beginning in mid-March households will receive a notice in the mail to complete the 2020 Census. April 1 is the official Census Day. In May, the U.S. Census Bureau will begin following up in person with households that haven't responded to the census.
How can I respond?
For the first time ever, the U.S. Census Bureau will accept responses online. Or, you can opt to respond by telephone or via mail. To see a sample copy of the 2020 questionnaire, click here.
What information will I be requested to share?
The census will collect basic information – e.g., name, sex, age, date of birth and race – about each person living in your household. You should count everyone who is living in your household on April 1, 2020.
How long will it take me to respond?
Responding should take about 5-10 minutes per questionnaire. One questionnaire must be completed for every person living in a household.
 Will my information be kept confidential?
Yes. It is against the law for any Census Bureau employee to disclose or publish any census information that identifies an individual. No law enforcement agency—not the DHS, ICE, FBI or CIA—cam access or use your personal information at any time. Additionally, the Census Bureau has a robust cybersecurity program that incorporates industry best practices and federal security standards for encrypting data.
Am I required to respond?
Yes. Everyone living in the 50 states, District of Columbia and five U.S. territories (Puerto Rico, American Samoa, the Commonwealth of the Northern Mariana Islands, Guam and the U.S. Virgin Islands) is required by law to be counted in the 2020 Census.
I'm worried about scams. What should I know?
To help protect yourself from phishing and other scams, please remember that the Census Bureau will never ask for Social Security numbers; bank or credit card account numbers; money or donations; or anything on behalf of a political party.
If someone visits your home to collect a response for the 2020 Census, check to make sure that they have a valid ID badge, which should bear their photograph, a U.S. Department of Commerce watermark and an expiration date.  If you still have questions about their identity, call 800-923-8282 to speak with a local Census Bureau representative.
How can businesses and organizations help?
Business and community leaders can play a key role in the success of the 2020 Census by communicating the importance of a complete count with their employees, customers and general public, and encouraging them to complete their census questionnaires. To learn more about how employers can partner with the U.S. Census Bureau, click here.
Is there a TTY number for people who are deaf or hard of hearing?
Yes. Please call 800-877-8339 to read the Federal Relay Service. 
I have more questions. How can I contact the U.S. Census Bureau?
For general questions, call 800-923-8282 or visit ask.census.gov.