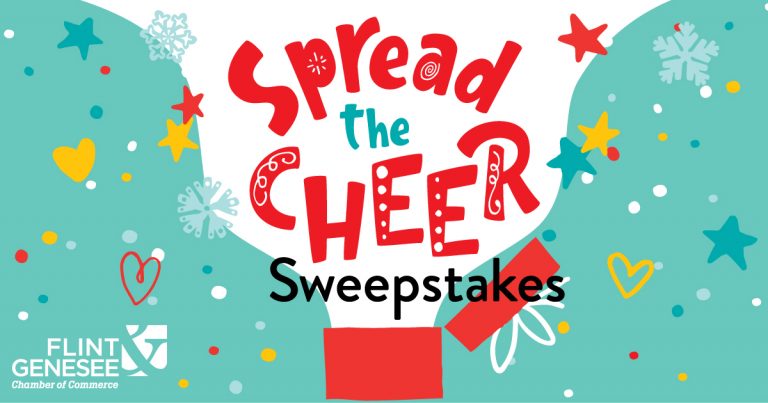 (FLINT, Mich. – Nov. 16, 2020) If you could give some extra love to any independently owned business in Flint and Genesee County this holiday season, which would it be? The Flint & Genesee Chamber of Commerce is calling on community members to answer just that question in the Spread the Cheer Sweepstakes. The contest, which is accepting entries today through Dec. 20, shines a light on small businesses in Genesee County while encouraging area consumers to shop locally.
Starting Nov. 23, the Flint & Genesee Chamber will randomly select one entry each week, for a total of five winning submissions. The business listed on the entry will receive $1,000, and the person behind that submission will win a $500 Visa gift card to put toward their holiday shopping budget.
"This hasn't been an easy year for anyone, let alone small businesses," says Tyler Rossmaessler, director of Economic Development at the Flint & Genesee Chamber. "That's why this contest aims to give a small boost to some of our area businesses and the people who support them."
According to the latest Yelp Economic Average, nearly 100,000 U.S. businesses have permanently closed as a result of the COVID-19 pandemic. Locally, the pandemic has put a strain on businesses as well. The Flint & Genesee Chamber has seen this firsthand while administering three different grant programs providing relief to businesses impacted by the pandemic this year. Collectively, the organization received more than 3,200 applications from Genesee County businesses in need.
According to Rossmaessler, an important way to support these businesses is to remember the importance of shopping locally, especially during the holiday season. After all, the National Retail Federation reports that a fifth of all retail sales occur in November and December. What's more, The Visa Back to Business Study – Holiday Edition finds that nearly seven in 10 small businesses consider the season a top sales opportunity.
"Small businesses are the fabric of our neighborhoods and communities," Rossmaessler said. "In supporting them, we support the people they employ, the initiatives they champion and the unique community identity they contribute to. It's imperative that we do what we can to keep them around."
To show your support through the Spread the Cheer Sweepstakes, participants can complete an entry form at flintandgenesee.org/cheer. While only one entry is allowed per participant, participants can earn bonus entries every time someone they refer enters the sweepstakes.
For a business to be eligible to receive a prize through the sweepstakes, it must meet three requirements. Specifically, it must be independently owned and not a franchise; must be located in Genesee County, Michigan; and may not have previously won the sweepstakes.
Entries will be accepted until 11:59 p.m. Dec. 20, 2020, with the final winning entry selected Dec. 21, 2020.
For more information, including contest rules, visit flintandgenesee.org/cheer.