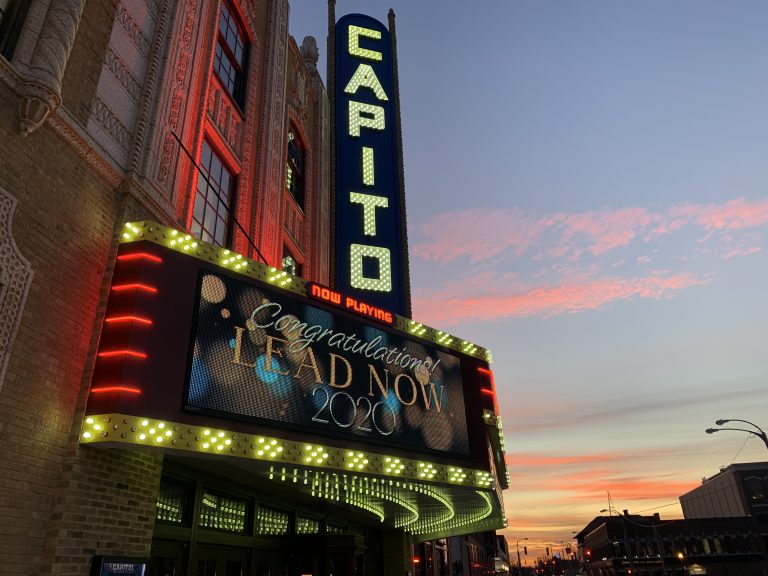 Lead Now capstone project for 2020 supported Flint church in efforts to establish laundromat
(FLINT, Mich., Nov. 23, 2020) – On Wednesday, Nov. 18, 15 area professionals celebrated their completion of Lead Now Flint & Genesee, an introspective leadership development program offered through the Flint & Genesee Chamber of Commerce. The graduates recognized the milestone with a drive-thru ceremony held in front of the Capitol Theatre in downtown Flint.
The year-long program—held mostly in a virtual format this year due to social distancing protocols resulting from the coronavirus pandemic—involved multiple leadership assessments, monthly trainings and one-on-one coaching sessions. The experience, according to Francee Abbott-Dereski, was transformational.
"It gave me the opportunity to grow out of a shell that I didn't even know I was in," said Abbott-Dereski, an alumna of the 2020 program. "The personal growth I've experienced has been worth its weight in gold."
To complement the lessons learned during Lead Now, a major component of the program's is the program's capstone project, which must be a collaborative effort that positive impacts the community. For 2020, the group opted to work with the Good Church in Flint, formerly known as Holbrook Ave Church of God, which was interested in starting an affordable community laundromat in its basement.
To do this, the team split into committees, each focused on a different element of the project, such as operations, fundraising and marketing. The cohort helped identify what steps would need to be taken to address infrastructural needs and maximize the available space. They communicated with contractors, identified funding sources and developed a volunteer staffing strategy.
Thanks to the cohort's support, the Good Church now has a solid plan and enough funding to begin construction on the laundromat once it receives its final coding permit. If all goes smoothly, church leadership expects that the facility will be open to the public in early 2021.
"When we first came up with this idea, we assumed it would happen sometime in the next few years," said Miosha Robinson, administrator at the Good Church. "By bringing in Lead Now, we were able to get things going much sooner than we expected. We would not be in this position right now without their help."
According to Adam Michaud, the Lead Now alum who served as project manager on the capstone project, he's most benefited from working with the Good Church, networking with his fellow cohorts and meeting with various community leaders through the Lead Now program.
"I think one of the most impactful things for me is that I got to understand a little bit more about what's going on in Flint," said Michaud, who lives outside of Genesee County and works for McLaren-Flint. "I've come to better understand the community my organization serves, and that's been an eye opener for me."
The 2020 graduating cohort includes the following nonprofit and business professionals who work and/or live in Genesee County:
Francee Abbott-Dereski (Hale), Total Health Collective
Sherrema Bower (Flint), Flint & Genesee Chamber of Commerce
Ronda Brinch (Linden), Mott Community College
Luther Brown (Flint), John L Logistics
Corinthian Carouthers (Flint), Creative Hair School of Cosmetology
Brandee Cooke-Brown (Flint), 100K Ideas
Emily de Araujo Snider (Davison), NorthGate
Sharita Galloway (Davison), NorthGate
Cathy Gentry (Grand Blanc), Sloan Longway
Mary Heron (Grand Blanc), The Flint Development Center Literacy Library
Jennifer Hickmott (Grand Blanc), Ferris Wheel
Tera Knoll (Clio), McLaren – Flint
Adam Michaud (Davisburg), McLaren Flint
Marcus Rankins (Grand Blanc), Metro Community Development
Erica Young (Grand Blanc), DHHS-State of Michigan
For more information about Lead Now Flint & Genesee, visit flintandgenesee.org/lead-now or call (810) 600-1404.
Individual headshots of Lead Now graduates are available upon request.