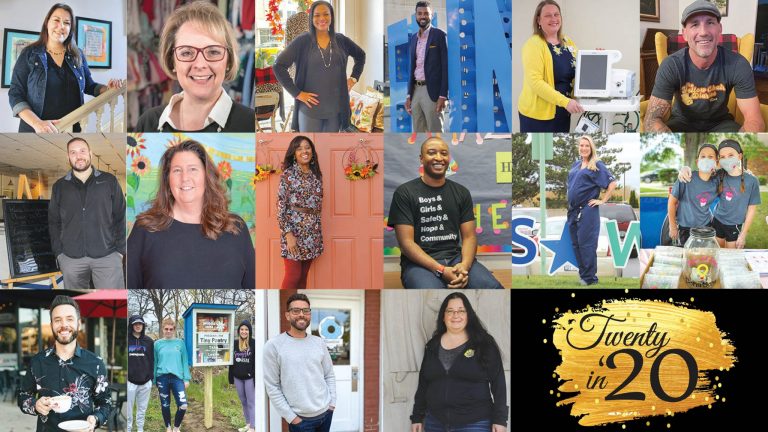 Celebrating individuals who went above and beyond in 2020 in service to Flint & Genesee
In a year of extraordinary circumstances and challenges, the people of Flint & Genesee rose to meet them in exceptional ways. Read about twenty amazing and uplifting stories in a special edition of the November-December 2020 issue of AND, a bimonthly business magazine published by the Flint & Genesee Chamber of Commerce.
This collection of stories, and accompanying photography, is called Twenty in '20, in celebration of those who have made a unique and positive impact in Flint and Genesee County in 2020 – a year unlike any other in recent memory.
"These stories reflect the unyielding spirit and generosity that makes us who we are in Flint & Genesee," said Tim Herman, CEO of the Flint & Genesee Chamber. "There are stories that highlight innovation and community love and fellowship, the power of the human connection, and fierce determination."
The honorees include ordinary citizens, business owners, medical workers and community leaders. They comprise a cross-section of the community in terms of gender, race, age and place of residence. Some of the honorees are new to the community while others are longtime residents.
Twenty in '20 was conceived after the Flint & Genesee Chamber made the difficult decision in August to cancel this year's Art of Achievement Awards and gala due to the coronavirus pandemic and the state-mandated restrictions on the size of indoor gatherings. The honorees were selected from a pool of nominations that were submitted to the chamber through an open process launched in mid-August. The selection committee was comprised of chamber staff.
"There was a heartfelt feeling among our staff that the community spirit could use a boost," Herman said. "We also wanted to wind down 2020 on a positive, hopeful and respectful note, in the way similar to our Art of Achievement celebration.
"I hope community enjoys the stories contained within this special edition of the magazine. I think readers will find it to be time well-spent."
AND, which is mailed to members of the Flint & Genesee Chamber, is available online at and.flintandgenesee.org. A limited number of print copies is also available. To inquire, contact Bob Campbell at .
###
Media interested in interviewing any of the honorees should contact Bob Campbell at