Flint School of Performing Arts Director Davin Pierson Torre has received the esteemed Milestone Award from the National Guild for Community Arts Education. She is the only arts educator in Michigan – and one of only seven in the United States – to receive the award. Torre accepted the award during the Guild's Conference for Community Arts Education in Austin, Texas, on Oct. 31.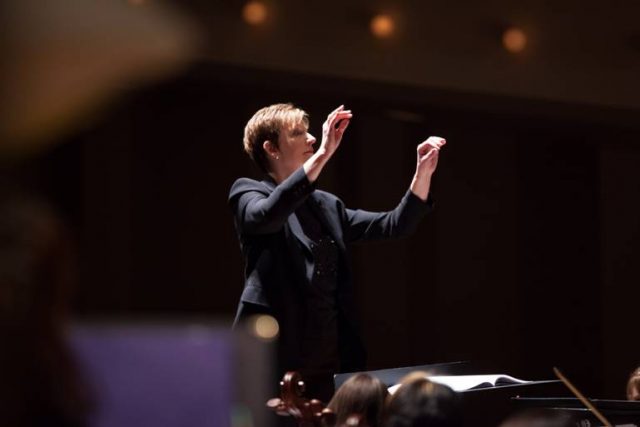 "FSPA is the largest community school of the arts in Michigan, and one of the nation's largest. People probably don't know we have more than 4,000 students," said Torre, who has been director of FSPA since 1995 and helped grow enrollment from 1,800 to where it is now. "I think it's also worth noting that we're located in Flint. It's a very positive, enriching place in a community that has many good stories to tell. Ours is just one.
"The Flint Institute of Music – of which we're a part – is a unique institution. It is one of few umbrella organizations where three performing arts programs operate together. Too often they're in silos. Here, we're equals, which means many opportunities for collaboration that benefit our students, staff, performers and the community in general. That's why I've stayed here as long as I have."
The Guild's Milestone Award is designed to recognize Torre's type of longevity. Recipients must have more than 20 years of demonstrated commitment to supporting and advancing community arts education. National Guild schools have students of all ages and skill levels, with tuition assistance. The goal is to break down barriers to arts studies. The Flint School of Performing Arts' student body is made up of about 15 percent adults and senior citizens; 15 percent preschool and 70 percent K-12.
Torre maintains a busy conducting schedule and is in her 31st season as conductor of the Flint Youth Symphony Orchestra. The orchestra has made performance tours to France, Ireland, England, Scotland, Japan and New York City's Carnegie Hall.
****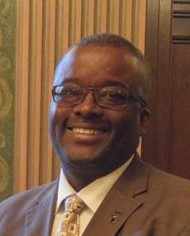 The Flint City Council on Nov. 25 ratified the appointment of Clyde Edwards as the new city administrator, by a vote of 6-1. Mayor Sheldon Neely recommended Edwards' appointment on Nov. 18. Edwards was previously chief of staff and legislative analyst in Neeley's state House office. He also served seven years on the City of Flint's Civil Service Commission.
Other key appointments recently announced:
Brian Larkin, chief of staff. Larkin is an expert in urban development with experience in city, county and state government as well as philanthropy.
Fire Chief Ray Barton will remain as head of the Flint Fire Department, a post he's held since 2016.
Phil Hart, interim Flint police chief. Hart previously served as post commander for the Michigan State Police Post in Flint.
Tyree Walker will assist with human resources on an interim basis. He is currently vice president of human resources for Hurley Medical Center.
Eric Scorsone, interim head of the finance department. He is an associate professor and director of the Center for Local Government Finance and Policy at Michigan State University.
John Daly, director of transportation infrastructure. Daly serves as member of the Michigan Infrastructure Council and served as manager director of the Genesee County Road Commission for 18 years.
Marjory Raymer, director of communications. Raymer is an award-winning journalist with more than 20 years of communications experience.
****
The Ferris Wheel on Nov. 12 received the 2019 Community Impact Award from the Michigan Venture Capital Association (MVCA), the trade association for the venture capital and angel community in Michigan. The award – presented at the MVCA's Annual Awards Dinner at the Henry Ford Museum in Dearborn – recognizes organizations, events or individuals that create the meaningful, effective connections necessary to build state's entrepreneurial economy. The Ferris Wheel is a Flint-based hub for entrepreneurs and innovators who seek a modern and collaborative office environment. The hub is designed to promote the exchange of information, ideas and resources within an accessible and high-energy workspace. Ferris Wheel also engages in grassroots outreach efforts to promote entrepreneurial education in the community. In 2019, Ferris Wheel achieved 92 percent occupancy and has hosted House Speaker Nancy Pelosi, as well as three presidential candidates for roundtable discussions.
****
U.S. Rep. Dan Kildee on Nov. 21 announced that the Mass Transportation Authority will receive a $4.3 million federal grant to refurbish its current fleet of buses and purchase new buses. The purpose of the Grants for Buses and Bus Facilities Program, through the U.S. Department of Transportation, is to assist in the financing of buses and bus facilities capital projects, including replacing, rehabilitating, purchasing or leasing buses or related equipment, and rehabilitating, purchasing, constructing or leasing bus-related facilities. "This grant will provide the funds necessary to replace an aging diesel fleet with new alternative fuel vehicles, which will allow for a much cleaner operating environment," said MTA President and CEO Ed Benning. "On behalf of the MTA and the community we appreciate the support provided by Congressman Kildee and others that made this possible."
****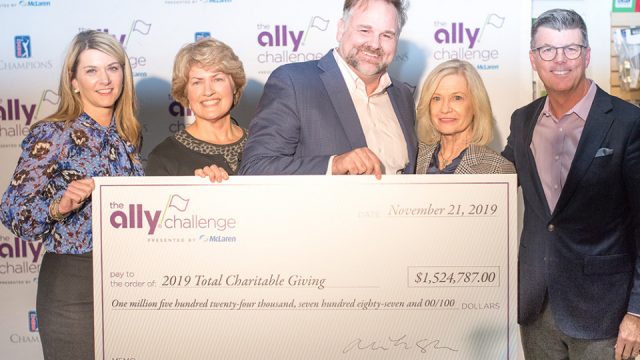 Tournament officials announced on Nov. 22 that the second playing of The Ally Challenge presented by McLaren at Warwick Hills Golf & Country Club raised $1,524,787 for charitable organizations in southeastern Michigan and beyond. The 2019 amount sets a new giving record for the tournament, surpassing the $1 million mark for the first time in the event's brief history. Since its inception in 2018, The Ally Challenge has donated a total of nearly $2.4 million in support of local charities in the greater Flint area and beyond. The total includes $200,000 for each of the tournament's primary beneficiaries, Genesee County Habitat for Humanity and United Way of Genesee County. NEWS RELEASE
****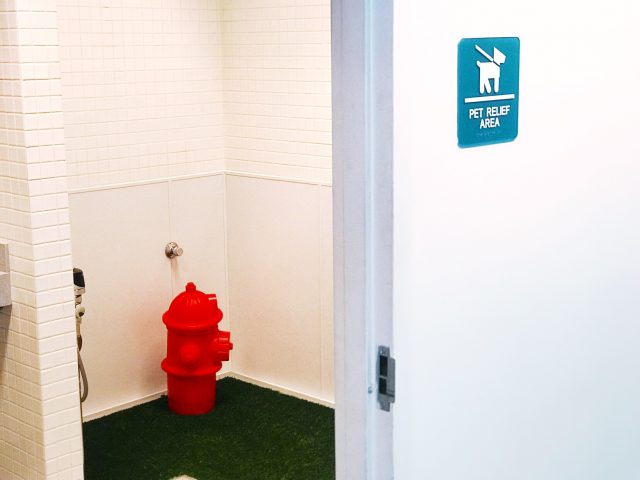 Bishop Airport has added a new pet relief area located inside the terminal. Bishop has always been "open for business" to jet-setting pets now provides an additional pet-relief area indoors, beyond security screening. The indoor area includes a patch of grass for our four-legged flyers to stretch their legs. It includes an automatic flushing system to eliminate waste into drains below the grass. In addition, trash bags are available, a sink for owners to wash their hands and re-fill water bottles. The newly expanded pet relief area is now open to all pets as well as service animals.
"FNT remains committed to being a pet-friendly airport, and we look forward to serving passengers with support animals in this enhanced way," said Airport Director Nino Sapone. "The specially constructed facility is easily located beyond security on the lower level and is accessible from all gates."
Bishop maintains an outdoor facility on the west end of the terminal prior to the employee parking lot.
****
Send submissions for personnel updates to . Photos are optional.