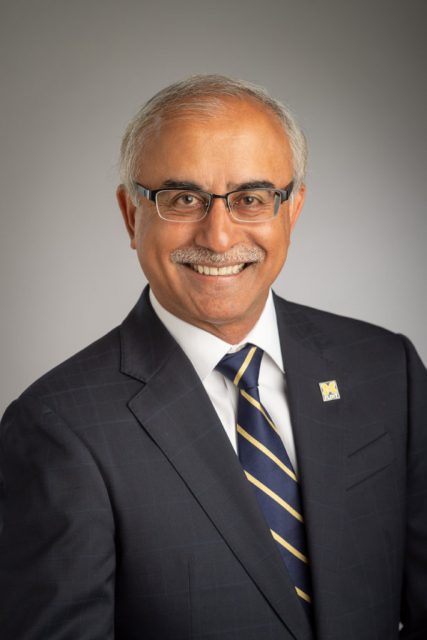 Debasish Dutta has been selected as the new chancellor of the University of Michigan-Flint, effective Aug. 1. His five-year appointment was approved June 20 by the Board of Regents. Dutta is a distinguished professor of engineering and the former chancellor at Rutgers University-New Brunswick.
As UM-Flint chancellor, he will serve as the chief executive officer of the Flint campus and also an executive officer of U-M. New release.
****
Flint Firefighter Rico Phillips, founder of the Flint Inner-City Youth Program, won the National Hockey League's O'Ree Community Hero Award.
The award is named after O'Ree, a 2018 Hockey Hall of Fame inductee who became the first black player in the NHL and has worked as the League's diversity ambassador for more than two decades. Phillips, who founded the program for kids ages 8-11 more than a decade ago, said he started it out of a sense of duty to Flint and to help diversify the sport locally. NHL article.
****
RetroFoam of Michigan on June 13 received several awards and recognition during the Consumers Energy Excellence in Energy Efficiency Banquet at Comerica Park in Detroit. The company received the Home Performance with Energy Star 2019 Century Club Award. RetroFoam was also three other honors, including awards for Continued Excellence, Preferred Contractor Network and Outstanding Performance.
"It's a pretty big milestone that is hard for a lot of contractors to accomplish, especially one considered to be a smaller contractor," said General Manager Eric Garcia. "This means we have done a large number of jobs in general and of those jobs a big enough amount were home performance projects. That is cool for us because it comes down to the savings for the homeowner."
For the past six years, RetroFoam of Michigan has been recognized by Consumers Energy for their continued efforts to make homes more energy efficient. In 2018, the insulation company received the Raising the Bar award, the Preferred Contractor Network – Outstanding Performance award in the Insulation and Windows Awards category.
****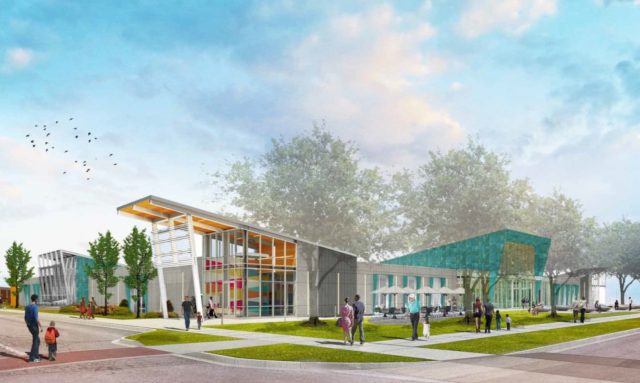 Sloan Museum of Discovery on June 12 broke ground on a $26.5 million renovation and expansion project that will nearly double the museum's size, and include interactive science and history galleries. Sloan will increase from the current 58,000-square-feet to 100,000-square-feet when it reopens in 2021. Learn more at DiscoverSloan.org.
****
Wings and Wheels, a cartage company, is a new tenant in a building owned by Bishop Airport. The company works with air freight forwarders to handle shipments from Home Depot, Wayfair, Target, Costco and others to deliver large items ordered to customers' doorsteps. It plays a vital role in the majority of large deliveries in the region, according to a new release. Wings and Wheels handles about 400 shipments a week.
****
Genesee Health Plan (GHP) awarded McLaren Flint a $60,000 grant to fund the hospital's Art Therapy Program. The Karmanos Cancer Institute at McLaren Flint added the program 10 years ago. Overseen by a registered art therapist, the unique service involves individual and group sessions that combine art projects with supportive discussion, as well as a partnership with the Flint Institute of Arts called "Healing Through Art". Traditionally, McLaren's Art Therapy Program at touched between 500 and 700 lives each year. With the additional funding from GHP, that number is expected to double this year.
****
XLerateHealth (XLH), a Louisville-based healthcare technology accelerator, announced the opening of XLH's new location in the Ferris Wheel in Flint. XLH Flint is funded by the Charles Stewart Mott Foundation and 100K Ideas. The move to Flint was spurred by Phil Hagerman, CEO of Skypoint Ventures and co-founder of 100K Ideas, who has made significant investments into Flint to build an innovation economy. The first XLH Flint startup cohort will kick off its bootcamp on July 9, with an open house from 5-7 p.m. at the Ferris Wheel (see more detail here). News release.
****
For the third consecutive year, Ascension Genesys Hospital has received the highest recognition for stroke quality care. The hospital was recently awarded with the American Heart Association/American Stroke Association's Get with The Guidelines®-Stroke Gold Plus Quality Achievement Award, which recognizes the hospital's commitment to ensuring stroke patients receive the most appropriate treatment according to nationally recognized, research-based guidelines based on the latest scientific evidence.
Ascension Genesys earned the award by meeting specific quality achievement measures for the diagnosis and treatment of stroke patients at a set level for a designated period. These measures include evaluation of the proper use of medications and other stroke treatments aligned with the most up-to-date, evidence-based guidelines with the goal of speeding recovery and reducing death and disability for stroke patients. Patients also receive education on managing their health, get a follow-up visit scheduled, and other care transition interventions.
Additionally, the hospital received the association's Target: Stroke Honor Roll Elite Award. To qualify for this recognition, hospitals must meet quality measures developed to reduce the time between the patient's arrival at the hospital and treatment with the clot-buster tissue plasminogen activator, or tPA, the only drug approved by the U.S. Food and Drug Administration to treat ischemic stroke.
****
Send submissions for personnel updates to . Photos are optional.