There is still time to register for next week's "Meet the Buyer" networking event at the Food Bank of East Michigan, 1939 Howard St., in Flint. Space is limited for the June 19 event.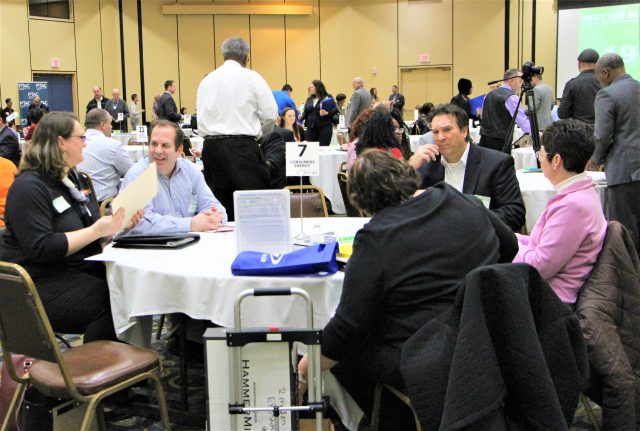 Sponsored by the Region 6 Procurement Technical Assistance Center (PTAC), "Meet the Buyer" is a free, half-day event — from 8 a.m. to noon — that brings together procurement officials from various local, regional, state and federal agencies and businesses with goods and services for sale. It is a forum designed to establish and nurture relationships that may a result in securing a government contract for small businesses.
"This is one of the key procurement matchmaking and government contracting events in the state," said PTAC Program Manager Jasmine McKenney. "For the prospective governmental agency, it's an opportunity to meet face-to-face with business representatives and to familiarize themselves with businesses in the region that could satisfy their purchasing needs.
"Likewise, it is a wonderful opportunity for business owners to connect with buyers at the city, state and federal government. Small businesses looking for diversification opportunities should attend."
Attendees will rotate among different agency tables, learning how the organization buys, what they are buying, and other valuable procurement information. Each buyer has five minutes to share information about their organization and what they buy, followed by 15 minutes for attendees to briefly present their companies and ask questions.
This year's roster of buyers includes:
Ann Arbor Transit Authority
Consumers Energy
Department of Technology, Management and Budget – State of Michigan
Great Lakes Water Authority
Genesee County Road Commission
Oakland County
Food Bank of Eastern Michigan
Flint & Genesee Chamber of Commerce
Mass Transportation Authority
Bay Metro Transit
Mott Community College
University of Michigan-Flint
STARS—Saginaw Transit Authority and Regional Services
City of Flint
TACOM—U.S. Army Tank Automotive and Armaments Command Detroit Arsenal
Hurley Medical Center
Michigan Department of Transportation
Resource partners will also be in attendance and available for discussion on how to start, grow and expand businesses, including: the U.S. Small Business Administration, Small Business Development Center and VetBiz Central/Veterans Business Outreach Center.
To register, visit flintandgenesee.org/meet-the-buyer.
For more information, contact PTAC Counselor Amanda Stuart at  or (810) 600-1414.