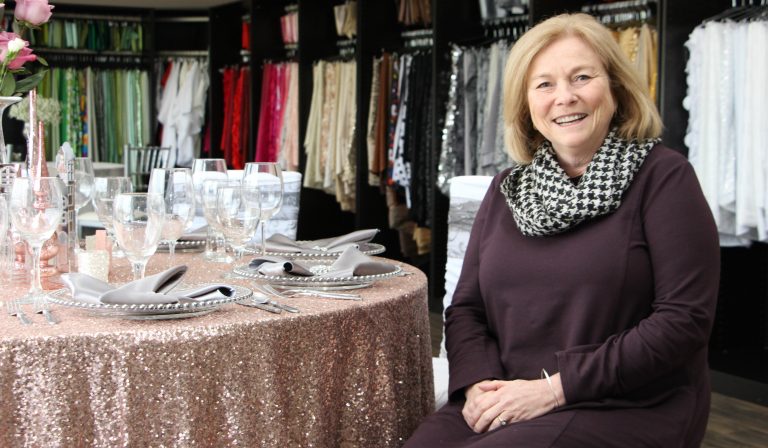 If it weren't for a mishap at her daughter's wedding 13 years ago, Lorrie Sage may never have found her calling to open Special Occasions, a successful linen rental and event design company with three Michigan locations.
"My daughter wanted chair covers, but we couldn't find anyone who rented them locally," Sage says. "We eventually found a vendor in Detroit, but they wouldn't deliver to Fenton."
So Sage drove to Detroit to pick up the covers, set them up and took them down at the venue and returned them to the vendor the following morning.
"I kept thinking, 'No mother should have to do that on her daughter's wedding day.'"
Six months later, Sage, who was the owner of a dental consulting firm at the time, talked her two sisters into starting a linen rental business together.
The women started by renting chair covers out of their homes in Fenton and Rockford and moved into small commercial spaces after expanding into linens. In time, Special Occasions grew to include locations in Grand Blanc, Grand Rapids and – as of May 2016 – Traverse City.
You started working on weddings. Have your customers changed?
Yes. Now we do everything. My business is cyclical – in November and December, it's holiday parties and church dinners. After that, we go into fundraisers and galas. Then we move into graduation open houses, and then weddings. There was a time when I didn't go into the office from November to March. Now we have 14 full-time employees working year-round.
Why do you think you've been successful?
It's all about service and relationships. I like people and getting to know them. Once you build a relationship with them, you instinctively want to build the look they want. I also love building relationships with other businesses in town and my employees, who have been with me forever.
What's it like to do business in Genesee County?
What is your proudest moment as a business owner?
When we did the grand opening event and ribbon cutting for our Grand Blanc location in 2015. I didn't expect a large turnout, but at least 200 people came and stayed – including my family and grandkids. It was really cool.
What advice can you offer fellow entrepreneurs?
Contact the Flint & Genesee Chamber! The Chamber advised me on everything from financing to building inspection processes. I also joined the Chamber's ATHENA PowerLink program (now the Flint Women's Leadership Committee) that matched me with an attorney, accountant, business owner and a few others who met with me monthly and helped me manage my growth. I'm not sure I'd be where I am had those women not given me advice and encouragement.
What's the greatest lesson you've learned?
I wish I knew when I started to expect the business would grow. It was challenging managing that quick growth. I went from four employees to 14 – a whole different dynamic. My advice is even if you start small, put processes in place as though you expect to be big (accounting systems, branding, company vision/mission).
What's next?
We just added hard rentals like tables and decorative chairs. We are also rebranding and launching a new website. And we're focusing on the Traverse City location. I'm open to whatever comes and looking for new things, but I'm also cautious to keep our size so I can manage the service and relationships. I want to keep it to what made us who we are.
For more information about Special Occasions, click here.