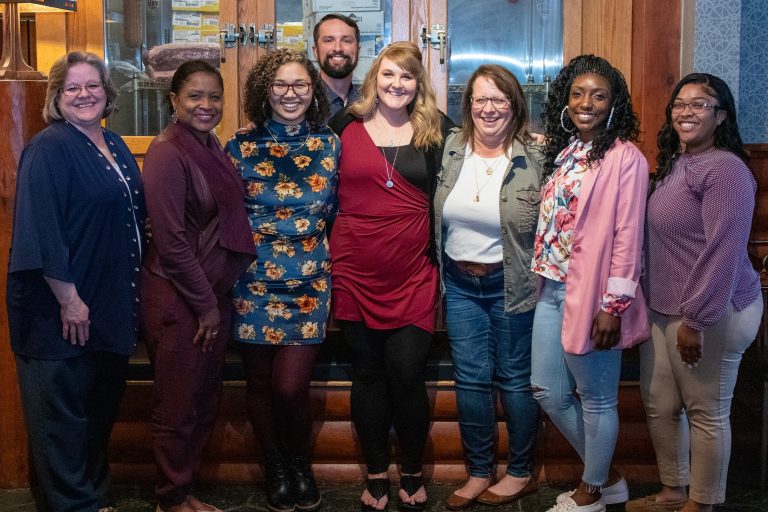 Individual headshots of Lead Now graduates are available upon request. B-roll footage and interviews with graduates are also available for editorial use only.
(FLINT, Mich. – May 12, 2022) It's been a busy month for Lead Now Flint & Genesee, the premier leadership development program from Flint & Genesee Group. The program – which provides introspective leadership training and coaching to area professionals – celebrated the graduation of its most recent cohort last week and is already gearing up for its 2022-23 program year.
"Lead Now Flint & Genesee helps prepare current and emerging leaders to lead at all levels throughout our region," said Brianna Mosier, director of Organizational Development at Flint & Genesee Group. "To date, more than 100 leaders have successfully completed the program and can be found spearheading community initiatives throughout Flint & Genesee, driving change in their organizations, serving on boards of local nonprofits and starting and sustaining their own businesses."
As part of Lead Now, each participant undergoes in-depth leadership assessments, one-on-one coaching and monthly training sessions. The program is designed for emerging and current leaders interested in learning how to leverage different behaviors to effectively create a vision, develop followership, implement said vision and achieve results.
Recent alumna Samantha Klaskow said she sought out the program after being promoted to a leadership role at Kettering University.
"While I was technically an established leader based on the role I had stepped into, I did not consider myself one at the time," said Klaskow, director of Kettering's Academic Success Center. "I had never managed anyone before, and suddenly, I had a team of eight employees. I was struggling with the imposter syndrome that a lot of younger leaders – especially women – experience, so I decided to look into Lead Now."
And Klaskow said she's glad she did, pointing to the impact of her leadership coaching, which allowed her to work through some of the challenges and opportunities she faced at work.
"It empowered me to have some important conversations with my team and share my vision for the work we do," Klaskow said. "It built my confidence, and I feel excited about what comes next."
A key component of the Lead Now curriculum is its emphasis on experiential learning — completed in part through a capstone project. Each cohort is tasked with executing a sustainable, collaborative project that positively impacts the community.
For the 2022 group, members worked with Food Bank of Eastern Michigan, which had experienced a volunteer shortage after temporarily pausing its volunteer program due to the coronavirus pandemic.
"It was almost like building a volunteer program from scratch," said Keri Brack, volunteer coordinator at the Food Bank. "The Lead Now group provided a fresh perspective and made some really good recommendations that I've already been able to implement."
Among the members in the 2022 graduating cohort are the following professionals who work and/or live in Genesee County:
Latrese Brown (Flint), City of Flint
Matthew Clark (Flint), Saginaw County Community Mental Health Authority
Sophia Eldridge (Grand Blanc), Meraki Hair Team
Samantha Klaskow (Flint), Kettering University
Dr. Kimberly Leverette (Grand Blanc), Flint & Genesee Education & Talent
Cindy Thornthwaite (North Branch), GST Michigan Works!
Amy Watts (Holly), Flint & Genesee Education & Talent
Vivian Williams (Flint), 100K Ideas
Applications for the 2022-23 cohort will open May 25. All applicants are required to attend an informational session, held virtually on May 25, June 2, June 7 and July 16.
For more information or to register for an informational session, visit flintandgenesee.org/lead-now or call 810-600-1451.
MEDIA CONTACT
Izzi Joseph
(810) 600-4071