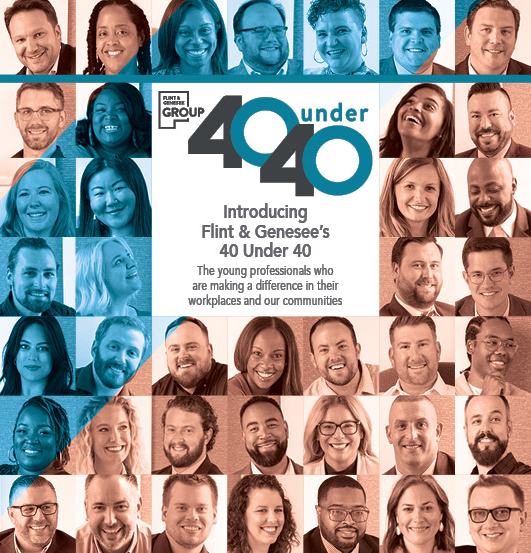 Honorees featured in a special edition of AND magazine
Today, the Flint & Genesee Group revealed the honorees of its first-ever 40 Under 40 recognition program. The honorees include accomplished professionals, entrepreneurs and influencers who are helping to shape the future of Genesee County.
Profiles and photographs of the 40 Under 40 honorees are featured in the September-October edition of AND, the bimonthly business magazine published by the Group. The pool recognizes proven leaders and innovators from diverse backgrounds and industries, including technology, law, health care, finance, development, food & beverage, consulting and education.
The recognition program was created to shine a spotlight on the county's dynamic young talent under the age of 40. The program was open to individuals who live or work in the county and were 39 years old or younger as of Dec. 31, 2022. The community responded with nearly 100 nominations.
"40 Under 40 distinguishes the impassioned leaders who are helping to shape the future of Genesee County," said Group CEO Tim Herman. "We want to retain these rising leaders. We want to keep them here so they can innovate, challenge conventional wisdom and lead the region forward.
"Highlighting these young professionals allows us to keep track of young talent and show them that we see them, and we value them. They are our future."
A third of the honorees are alumni of either the University of Michigan-Flint, Kettering University or Mott Community College.
Honorees were selected by an external committee comprised of local business and community leaders. In addition to the age restriction, nominees must spend most of their work time in Flint & Genesee; or, if employed outside of Genesee County, must hold a leadership position in a local community organization and be a resident of Flint & Genesee. A nominee must be a business owner, executive, manager, professional or person with significant influence.
Self-nominations were allowed. However, self-nominators required a letter of support from the president/CEO or direct supervisor from their employer. Self-employed individuals required either a letter of support from a professional reference or client. (Employees of the Flint & Genesee Group or its four divisions were not eligible for the program.)
"Here at the Flint & Genesee Group, we work every day to strengthen our local economy and create a place where residents thrive and businesses invest and grow," Herman said. "Talent is central to our mission. When we're successful, our region's ability to attract and retain talent is stronger."
AND magazine is mailed to members of the Flint & Genesee Chamber. Limited copies are available to the general public. The magazine is also available online at AND.flintandgenesee.org/.