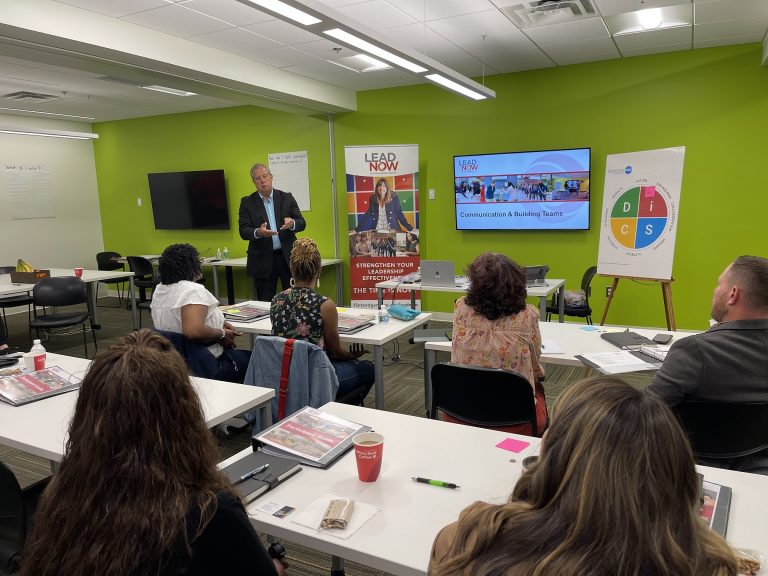 Program issues RFP for nonprofits with community impact project
(FLINT, Mich., Sept. 23, 2022) – Eight area professionals will spend the next eight months honing their leadership skills through Lead Now Flint & Genesee. The introspective leadership development program, which is offered through Flint & Genesee Group, kicked off its ninth cohort Sept. 16.
"While the workforce landscape has changed drastically in recent years, the need for effective leaders remains a constant," said Brianna Mosier, director of Organizational Development at Flint & Genesee Group. "It's exciting to see a new cohort of leaders make the decision to invest in their development. By the time the program ends next spring, the cohort members, their employers and our community will be stronger because of it."
As part of the Lead Now program, each participant undergoes an in-depth leadership assessment to identify areas for development. They also participate in one-on-one coaching and monthly training sessions focused on creating a vision, developing followership, implementing said vision and achieving results.
Participants in the 2022-23 cohort work and/or live in Genesee County. They include:
Corinthian Carouthers II (Flint), Creative Hair School of Cosmetology
Chris Engle (Grand Blanc), Mott Community College
Faith Groesbeck (Flint), City of Flint
Brandy Moeller (Grand Blanc), Flint & Genesee Group
Joyce Sanders (Flint), NorthGate
Angi Scheidman (Pinckney), University of Michigan Credit Union
Beth Warden (Fenton), University of Michigan Credit Union
Jill White (Fenton), The State Bank
A key component of Lead Now is its community impact project, which allows the cohort members to put what they've learned into real-world practice. For example, the 2022 group worked with Food Bank of Eastern Michigan to address the volunteer shortage the local nonprofit experienced after temporarily pausing its volunteer program due to the coronavirus pandemic.
To identify this year's project, the program has issued a Request for Proposal, open to 501(c)(3) nonprofit agencies in Genesee County. Project submissions for the 2022-23 RFP will be reviewed by the Lead Now alumni advisory committee and narrowed down to three finalists. These organizations will then present their project ideas to the Lead Now cohort in November. Following this session, the Lead Now cohort will select one organization to work with for the year.
To submit your proposed project, please complete this application and return via email to  by or before by Oct. 28.
To learn more about Lead Now, visit flintandgenesee.org/leadnow.
Individual headshots available upon request.