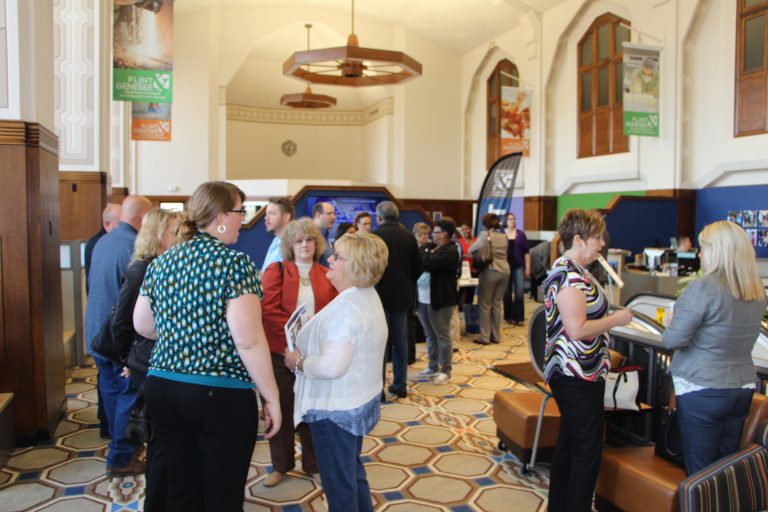 (FLINT, Mich., April 8, 2019) –The Flint & Genesee Chamber of Commerce today announced continued growth in its membership, with 11 area businesses joining the organization in March. These new members represent a wide range of industries, and are actively contributing to the success and economic activity of this region.
"We're pleased to welcome our new members to the Flint & Genesee Chamber," said Tim Herman, CEO of the Chamber. "They have joined hundreds of business owners and managers working with the Chamber to move the economy forward, and make Flint and Genesee County a better place to work, live and play. And we're excited to have them join us."
Bluewater Technologies Group, 24050 Northwestern Hwy., Southfield
coEpTis Online, Burton
Farmers Insurance Julie Parks Agency, 103 W. Vienna Road, Suite 1, Clio
Keller Williams First Realty – The Kristy Cantleberry Team, 10785 S. Saginaw St., Suite E, Grand Blanc
M&M Travel and Tours, 1410 Lynton Ave., Flint
Metropolitan Housing Development Corp, 930 E. Myrtle Ave., Flint
Refinery Hair Co., 718 Harrison St., Flint
Spectacular Spudz, 300 E. First St., Flint
Tailgate Guys, 5060 Jackson Road, Suite E, Ann Arbor
The New McCree Theatre, 2040 W. Carpenter Road, Flint
Toshiba Business Solutions, 6060 Torrey Road, Suite B, Flint
As members of Genesee County's largest business advocacy organization, these businesses can take advantage of several benefits available through the Chamber, including money saving and insurance programs, business and talent services, networking opportunities, seminars and workshops, and assistance in securing government contracts.
In addition to providing networking services, the Chamber helps companies enter new markets and connect them with talent and financial resources.
For more information about member services, call (810) 600-1404 or contact Steven Elkins at  or Leigh LaForest at .
To join today, click here.