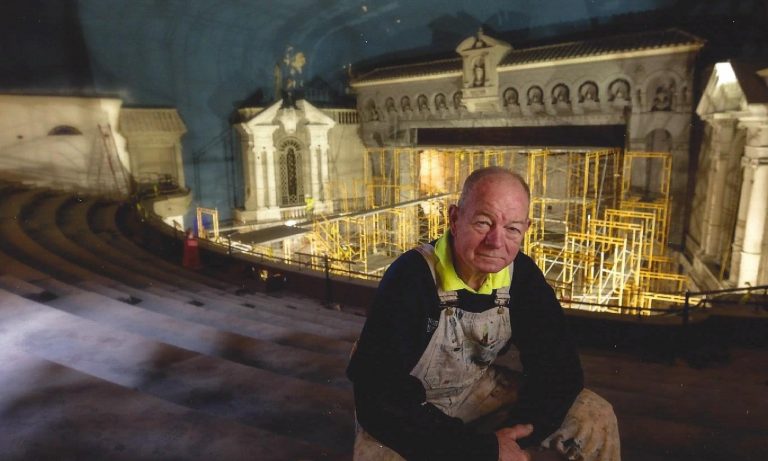 For Steve Heddy, the painters' trade goes back four generations starting with his great grandfather, who was a painter in Illinois. In the 1920s, his grandfather brought his nine children to Flint during the automotive boom. Almost all his sons followed him into the painter's trade, except for Heddy's father.
"My father worked for Bell Telephone Company," says Heddy. "But I followed my grandfather's footsteps and worked with him and my uncles for many years before I started my business in 1970."
With his family, Heddy worked as a production painter and worked on many apartment and housing projects. However, he had dreams of getting into decorative painting.
"I wanted to be a bit more artistic," says Heddy. "I worked with some of the greatest decorative arts painters in Genesee County and absorbed everything they taught me like a sponge."
With his new skillset, Heddy embarked on a decades-long career working on high-end housing, restoring historic buildings and beautifying local churches. His work can be seen at many local establishments including the Capitol Theatre, the historic Genesee County Courthouse, St Lorenz Lutheran Church in Frankenmuth and First Presbyterian Church in Flint.
"I was born and raised in Flint and feel a sense of ownership to the buildings that are here," says Heddy. "It shows in the quality of work we do to keep these buildings as beautiful as they ever were."
What has been one of your proudest moments?
I was brought on board when they were building a new addition to the Genesee County Courthouse. The original courthouse was in good condition, however, in the 1960s the style was to paint everything white and put in drop ceilings – so that's what they did. There was to be a great mural depicting Flint in the 1920s. When I got in there, we took out the drop ceiling and half of the mural was remaining. We worked tirelessly to bring that back.
Why did you decide to work in Flint?
We tried our hand at going around the country. We painted Arby's all around the eastern part of the country, did a lot of Chuck E Cheese Pizzas. But I have a daughter and a wife and when you're gone you don't have them. I thought, 'Why am I doing this if we have jobs available in Flint.'
How has your business been involved with the community?
We've been involved in a lot of ways throughout the years. One story I remember, we painted the mural on top of the old Flint Farmers' Market. It was a beautiful mural, but the rest of the building needed to be repainted, and they couldn't afford it. We donated our time and supplies to get it repainted. Another time we got involved with the Goodwill and painted their building on Averill Street. I've made a good living from Flint, so I make sure to give back when we can.
How would you describe Flint & Genesee to an outsider?
The people of Flint are the reason to be here. They're the best part of Flint. Flint citizens care about other people, they're the first ones to drop everything and help when it's needed.
What is your business philosophy?
Love what you do and do it until you don't love it anymore. I am 71 years old, and I still go to work every day and can't wait to prove how good we are.
Outside of business, what do you like to do?
I have a big house built in the 20s and it takes a lot of work to keep up. So, that's my hobby, keeping up my home. Being in the trades all my life, I can do just about anything. My wife and I also have family in California, three grandchildren and a great-grandchild. So, we visit them when we can.
How does your family fit into the business?
My wife is my boss. She is the one who tells me where I need to be and who I need to call, and if I don't call them, I get notified sternly. But she is my leader and the best fan of my work.
Where do you like to eat, shop and spend time in Flint & Genesee?
One of my favorite neighborhood restaurants is Luigi's. They have the best pizza in the state! We have been going to Italia Gardens since my wife and I were first married. When we walk in, they know our names, put us in our favorite booth and just bring out our regular order. The Cork on Saginaw is where I take visitors from out of town, they always leave impressed.
For clothes and shoes, we shop at local small businesses. I have run over 40 Crim races and I always get my shoes at Bauman's Running Store. I met the owner at my first race and a little while ago we went to Hawaii and ran a marathon together. I buy all my automobiles at Graff Chevrolet. We love shopping locally whenever we can.
What advice would you offer future entrepreneurs?
The building trades are losing people left and right. Tradesmen are retiring and those coming into the field aren't getting the training they need. So, I would suggest going into the building trades. Trades have had the reputation of being hard work with little reward but that is simply not true. It's not hard work if you love what you do, and I have made a great living in the trades. Find a trade and learn to love it.