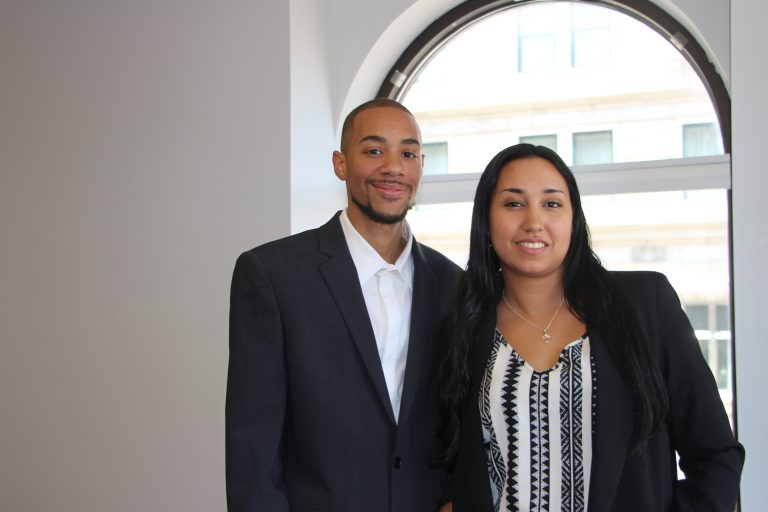 Husband and wife team, Jennifer and James Johnson, started their business in 2012, not too long after tying the knot. James was looking for a way to put his family in a position where they could find success, and he did just that opening Prestige Janitorial Services which is housed in downtown Flint.
"My father ran a janitorial and carpet cleaning business," says James. "I learned what I know working for him and went from there."
Through the years, the couple has grown their business. Starting off with just the two of them and a few clients, Prestige now employs eight individuals in the community.
"All of our employees are born and raised in Flint," says Jennifer. "It is important to us to keep Flint jobs in our community."
The Flint natives who are now raising two children in the community use their business to ensure that Flint keeps moving forward.
Why did you decide to open your business in Flint?
Jennifer: Flint is our home, we are from here, still live here and are raising our family here.
How would you describe Flint to an outsider?
James: There are a lot of positive things happening in Flint aside from what you would see on TV. There are a lot of people here making our city great.
Where do you like to eat, shop and spend time in Flint & Genesee?
James: We are always downtown; we love Comma Book Store and Hoffman's Deco Deli has me on a first name basis.
Jennifer: We also love eating at 501 Bar & Grill, they have great pizza and downtown Flint is about five minutes away from our house. We also love shopping at the Flint Farmers' Market.
How has the COVID-19 crisis affected your business?
Jennifer: We had trouble hiring employees to keep up with demand because we had more places to clean and sanitize due to COVID.
What is your business philosophy?
Jennifer: To show up and always put our best foot forward. Also, to ensure we never miss a day. If an employee can't make it in for whatever reason, we make sure as the owners we show up and complete it.
How are you involved with the community?
James: Each year we partner with one of our clients and give away toys to children in the community. We sponsor local events such as the Ennis Center's annual golf scramble. We give back when we can, we want to use our business as a vehicle for positivity in the city.
How does your family fit into the business?
Jennifer: Our children are a part of the day-to-day process. Due to schools shutting down this last year, they have been in the office with us a lot. It is great because we want them to understand what our family does.
What are your plans for the future?
James: We want to continue to grow in the community by getting more contracts and expanding our team.
What has been your proudest moment?
Jennifer: Building our business enough that we are able to afford to give back to our community.
What advice would you give future business owners?
James: It's going to be hard – you're going to feel like quitting sometimes. But keep pushing because nothing is built overnight.
Jennifer: Make sure you fail forward. You are going to fail, that is just part of it. Keep sticking with it and moving forward.
To learn more about Prestige Janitorial Services, visit their Facebook page.