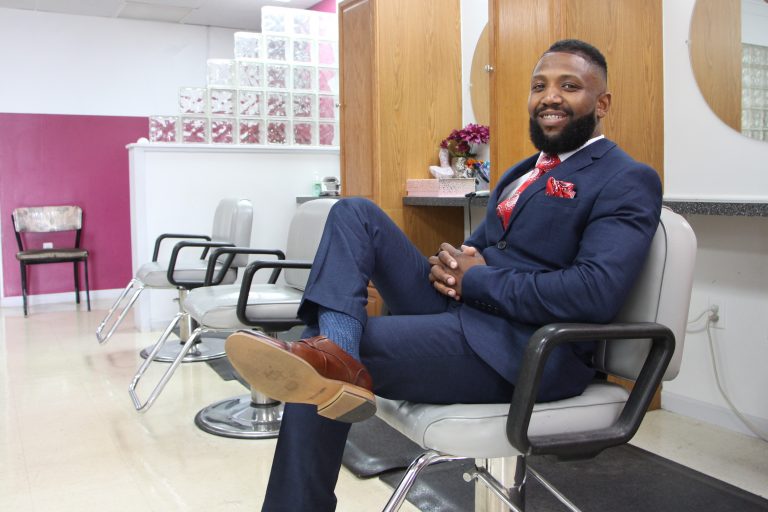 Dwayne Harrington is a familiar face at the Flint & Genesee Job & Resource Fair. For the last year, he and his team have set up a pop-up hair studio giving free haircuts and styles to ensure the men and women attending the event are looking their best.
As the owner of Park Place Hair Studio, Harrington's main goal of his business is to use it as a vehicle to give back to the community.
"To sum it up, my proudest moments are giving back to the community," says Harrington. "And providing the opportunity to the people who work at the salon to give back as well."
Harrington and his team have been asked to provide services at multiple job fairs hosted by the Flint & Genesee Chamber of Commerce, which is something he is proud of.
Why did you decide to start your business in Flint?
I wanted to give back to the economy, and create jobs and career opportunities.
How would you describe Flint to an outsider?
It is a thriving city that is looking to grow. Flint is bigger than it is made out to be. There is diversity in the entrepreneurialism in the county.
What is your business philosophy?
Giving of oneself, unselfishly, one person at a time.
What inspires you?
What has been one of your biggest stumbling blocks?
One of my biggest mistakes was having too much gray area with my contractors. I tried to satisfy each person and I almost lost Park Place within the first two years. But I tightened things up, made policies more black and white and we've made it now four years.
How does your family fit into your business?
They are my biggest supporters. If I do an event and need my mom to cook for me, she will make eight different dishes. One year I decided to have an event for my birthday at Carriage Town Ministries. My mom was so inspired by it that she said, "I want to do Thanksgiving down here." Now the salon hosts dinners there in October and November – this is our fourth annual set of events there. This is my family, this is what we do. They have a heart for the community as well, and I am blessed enough to be the one to navigate us through these things we do.
Where are your favorite places to go in Flint?
I love downtown – 501 Grill, Cork, Blackstone's. I love going to the Flint Farmers' Market, but I have to have a budget before going in or they will take all of my money! [Laughs]
What are your plans for the future?
Short term, I plan on moving the salon to a larger location so that we can expand while keeping overhead low. But I am already thinking ahead to Plan C – a mega salon that Genesee County hasn't seen before.
Don't miss Park Place Hair Studio's Annual Back to School event in August. For more information on Park Place Hair Studio, check out their Facebook page.