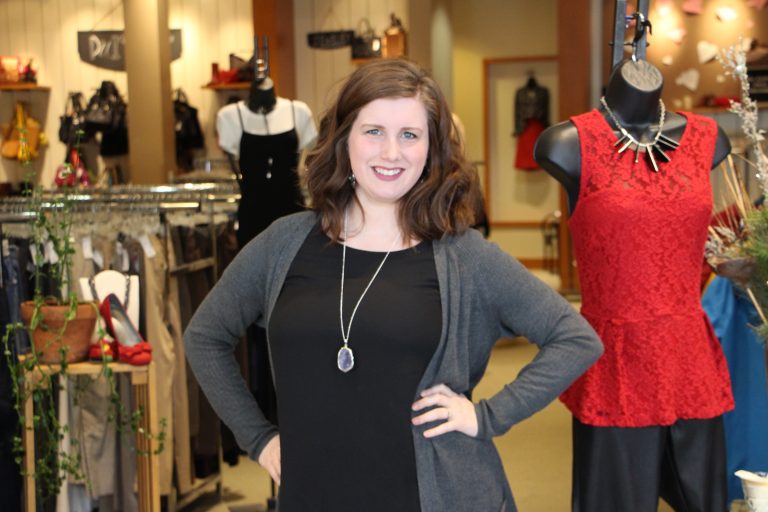 When Amanda Szumowicz was 15 years old, she started her first job at local consignment shop Wears Like New. Little did she know, she was starting her path to business ownership.
She worked her way up through management and in 2017 – when the previous owner sought to retire – Szumowicz took over.
"The original owner, Sherry, was an incredible mentor for me," Szumowicz says. "I worked with her for 12 years and she taught me everything I know. I wouldn't know what to do without her help."
With her former boss' support and encouragement, Szumowicz decided to move the store from Bristol Road to an outdoor storefront at Genesee Valley Center. Looking at nearly 15 years of inventory, Szumowicz called upon her staff, friends and family, and rented a U-Haul.
Together, they moved and staged the store over one weekend.
And after being closed for only three days, Wears Like New re-opened to the public on August 1, 2017.
Why did you decide to keep your business in Genesee County?
We love Flint. This business has been here for over 15 years. I didn't think to leave because of the community we've established in this area. We have over 10,000 consigners who know we are established in this community. I would never want to leave that.
How would you describe Flint & Genesee County to an outsider?
We are up and coming. We have gone through hard times but we are stronger for it. Our economy is steadily growing. We may have struggled but that struggle has just proved to make us better people in the end.
How did people react to your new location?
We had a lot of people blown away by the store itself. We have high ceilings and natural light here. People thought it looked like a real boutique.
Why was it important to make your store feel different than a traditional consignment store?
What advice can you give to other small business owners or entrepreneurs?
Do things that you are hopeful for. If they don't work, try again. We recently started selling items on Instagram and Facebook. This takes a good amount of my time and extra staffing. But over the last month, it's gained traction and is really paying off.
What is the biggest challenge you've faced as a small business owner?
To not take things personally. I have to realize that I am not going to please everybody and be confident in who I am as a business owner. I am not quite there yet, but I am taking steps to improve myself.
How does your family fit into your business?
There isn't a distinction between the business and my family! Sometimes my son, Milo, will come in and "help" me in the office. My husband, Chris, helps me with photography for our online sales. My mother helps us on the floor during busy seasons. It's a family affair.
Where are your favorite places to go in Flint?
We live in the College Cultural Neighborhood, so I go downtown constantly. I get coffee at Wildroot Coffee (owned by my husband, Chris Szumowicz). I eat at the Flint Crepe Company and 501 Bar & Grill. On Saturdays, we take Milo to Totem Books for the story hour, and stop by the Flint Children's Museum's play area at the Flint Farmers' Market.
For more information about Wears Like New, visit wearslikenewmi.com or follow the business on Facebook.