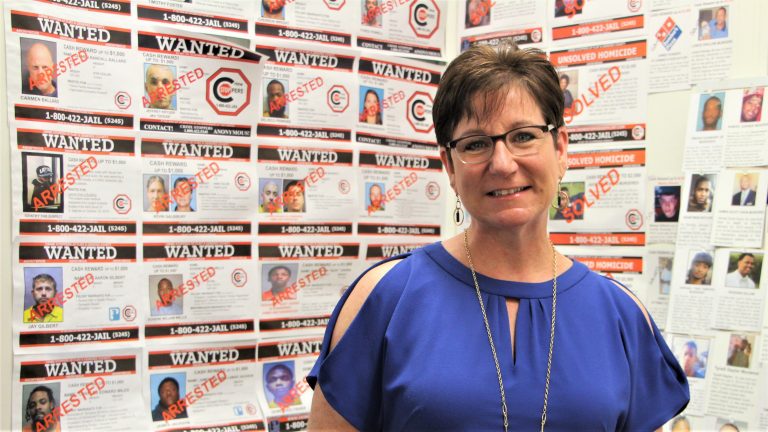 Julie Lopez is a horticulturist at her core. She studied it in college and worked for 25 years running her own company where she designed landscapes, taught gardening classes and consulted with clients on their yards and gardens.
However, in 2011 everything changed when Lopez's father-in-law was murdered. With the case left unsolved, Lopez quickly began working with Crime Stoppers, an organization that allows individuals to leave anonymous tips about criminal activity.
"I started working with the organization in Detroit and helped expand the program to Flint," says Lopez. "We gained so much support from the community and law enforcement that in 2016 we formed a local board."
Lopez has been working hard as Program Director of Crime Stoppers of Genesee County to help solve and prevent crimes in the community. Why does she do it? She says her inspiration comes from her late father-in-law.
"He did so much for so many out of the goodness of his heart," Lopez says. "I laugh now, look up to the sky and say 'Dad, you are making me do your community work now.'"
What has been your proudest moment working with Crime Stoppers?
Receiving the Claire M. White Award was an honor. She [White] did so much for the community and to be recognized in her name meant so much. You don't do your work to be recognized, but when you are, you think "Wow, people are seeing that I am making a difference."
What do you remember about your first case?
It was also my first press conference. The detective on the case came to me because they didn't have any leads. So, we hosted a press conference with the victim's wife and daughter asking for help to solve the case and it was all over the news. The process worked and the killer is now in prison for life.
Why Genesee County?
My father-in-law lived in Flint. He loved Genesee County and was very involved in the community – we didn't realize how much when he was alive. Since I have been in Flint and Genesee County, I can now see why he loved it so much. It's because the people here are so good and they only want the best for the community.
How would you describe Flint & Genesee to an outsider?
The people that I meet, even working in crime, care so much about their community. They are strong and they are fighters. Downtown Flint is a great area. They have the cultural center, wonderful colleges, the Chamber – there is just a fantastic group of people working hard to bring Flint back and make it better than it ever was.
What advice would you give to other nonprofits looking to set up shop in Flint & Genesee?
Getting funding is a challenge. But it can be done if you have a program that works and that is helping the community. The Flint & Genesee Chamber of Commerce is a valuable resource for information. It is also important to network with local nonprofits and grant funders such as the Community Foundation of Greater Flint or the Ruth Mott Foundation.
Outside of your role at Crime Stoppers, how would you describe yourself?
How does your family fit into what you do?
I couldn't do it without the support of my family. My husband is an excellent listener and will give me advice on how to run the nonprofit side of things. We don't talk about the other side of work much, because it is so close to our own situation. But they know why I have to do what I am doing and are so supportive.
Where do you like to eat or play in Flint & Genesee?
I love the Flint Farmers' Market. For lunch, I love the Lunch Studio and Hoffman's Deco Deli – they both have great turkey ruebens! My father-in-law used to take us to Crossroads Village when the kids were little, that was a great memory.
What are your plans for the future?
To make this program in Flint and Genesee County stronger than ever so citizens can live, play and garden safely!
For more information about Crime Stoppers of Genesee County, go to www.crimestoppersofflint.com.