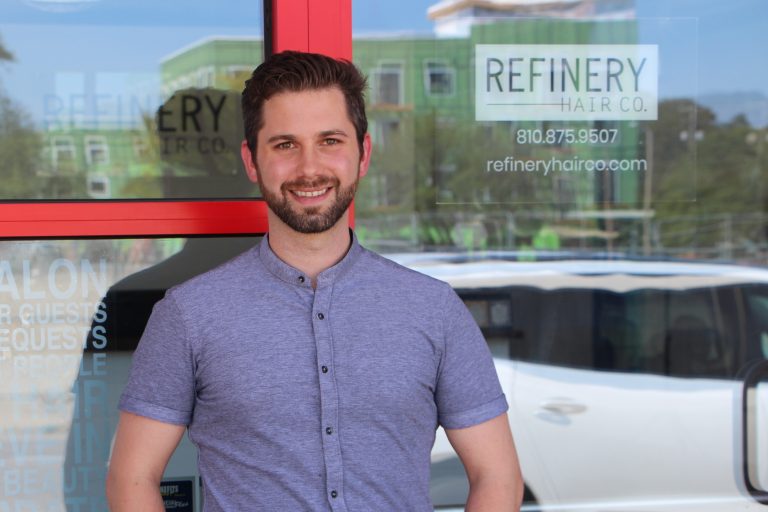 Almost four years ago, Daniel Buccilli sold his share of a boutique hair salon in East Lansing so he could move to Genesee County to be closer to his fiancé, David. He did some consulting for other salons in the area, but that wasn't fostering his passion.
"My main focus is hair, I love the creative aspect," says Buccilli. "I love building relationships with clientele. I love the fast-paced rush of the days."
Buccilli worked as a hairdresser in Flint at a different salon. But when he tried to relocate to a different salon, he couldn't find the atmosphere he wanted for his clientele. So, he talked it over with his fiancé and they decided to open a place of their own. However, finding that place wasn't as simple a task as they had expected.
"I was looking for something special, something unique," says Buccilli. "Along with that, we wanted a building with good parking in downtown Flint."
When they finally found their location in downtown Flint off Harrison Street, it was perfect – except it was 6,000-square-feet which was three times the size that they wanted.
However, with the encouragement of the building's owner, local developer Phil Shaltz, the couple went for it. And after five months of renovations, Refinery Hair Co. opened its doors in March 2019.
What was it like to occupy a space much larger than you initially planned?
The process at the beginning was scary. We knew we had so much space and so many open chairs. But we had some stylists reach out to us before we opened that were excited about the opportunity. And the response has been great. We started with eight stylists and now we currently employ 25 people in total and have recently expanded to massage therapy.
Why did you choose to open your salon in downtown Flint?
Being downtown was very important to us. We lived here for a while and before opening, we had networked with so many businesses in the area. And we have loved every minute of being downtown. We love the growth here and wanted to be part of the revitalization of the city.
How would you describe the area to an outsider?
I think there is a lot of misperception about downtown. People are nervous to come down here if they haven't been in a long time. They don't realize the growth of the city. Exciting things are going on and once people get down here, they realize that.
What is your business philosophy?
What is one mistake you made?
Opening so quickly. Once we got the space, we just wanted to open it. I think a couple of extra months to prepare would have benefited us. But we got through it, and I don't think anyone noticed those imperfections as part of their experience.
Where do you like to eat, shop and spend time in Flint & Genesee?
I love going to all the restaurants downtown. We love going to the FIA. We love events that come to downtown Flint. We shop at Shift when buying gifts for friends and family. Now that we moved to Fenton, we are experiencing a lot of the different restaurants out there, too. We divide our time between the two cities.
What advice would you offer future business owners?
Have a plan. Talk to people who know what they are doing and who have experience. Get as much feedback and advice as you can and be open to the fact that you don't know everything. Everything thing won't go perfectly, but you just have to throw yourself in there and not let fear take over.
For more information, visit Refinery Hair Co.'s Facebook page at www.facebook.com/refineryhairco.