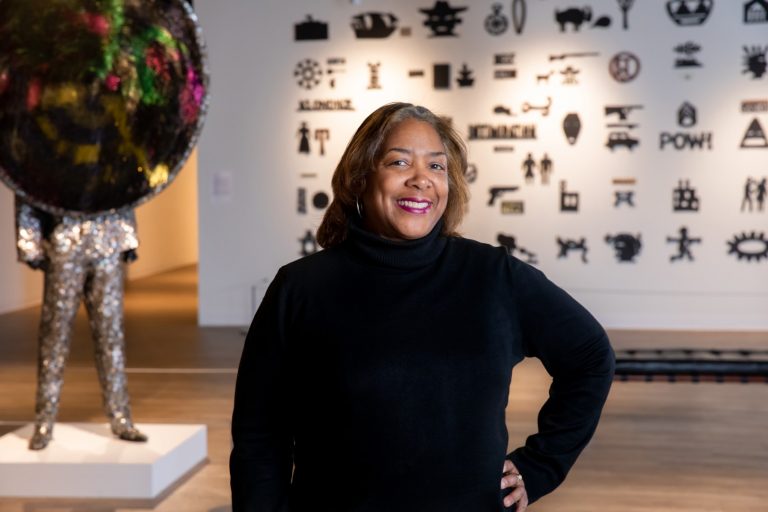 In 2011, Stephanie James was hired as assistant curator and educator for the Mott-Warsh Collection, a privately-owned, publicly shared art collection featuring pieces by artists of the African diaspora and other artists who reflect on it. The collection, which began in 2001, was started when Maryanne Mott and her late husband Herman Warsh had a reaction to the loss of arts education in public schools.
"The primary function of the collection is to bring art into peoples' everyday lives," says James. "We have exhibits in local libraries, churches and clinics as a way to make art more accessible."
However, about six years ago, Mott and James pondered whether they could sustain a permanent space as the collection continued to grow. And that is how MW Gallery came to be with James serving as director, curator and educator of the facility.
"Our mission with the gallery is to provide a welcoming environment where individuals can learn about Black History, American History and the history of the African Diaspora through art," says James. "The gallery is a comfortable place to engage in dialogue about the artwork and its subject matter."
Often the art subjects, James explains, tackle political and social issues that the artists experience and are brought to life through their artwork.
The collection, which contains over 800 works, is rotated in the gallery through exhibits that change about every five and a half months. The gallery also hosts guided tours that expand upon the artists and work within the exhibits, as well as special presentations with the artists who speak about their work in the gallery.
MW Gallery continues to be a fixture in downtown Flint for visitors and locals alike with James at the helm.
What are your proudest moments?
Seeing the reaction of visitors each time we open a new exhibit. Just hearing the surprise that people have when they discover that such a collection exists in Flint. That, and having people come back and tell stories of recognizing the artists in our collection in other fine arts museums and galleries.
Why was it important to open in Flint?
Flint is Maryanne Mott's hometown. She has a strong commitment to Flint. Having these art pieces in Flint gives citizens a sense of shared ownership over the art that is very special.
How would you describe Flint to an outsider?
I think it is a town with heart. I am from Detroit and I look at Flint as a small version of my hometown. The heart of the residents is something that is familiar to me being from Detroit. People here have a lot of respect and commitment to the city and the places they live. They value Flint's history.
How did the COVID-19 pandemic affect business?
It created a disruption. We had to shut down the gallery for a while. However, we have built a good following on social media which was a great way to stay in touch with the public. During the shutdown, we created an online version of our exhibit and initiated a series of art talks on YouTube with artists via Zoom. It was great because we were able to speak with artists that may not have been able to come in and do a talk in person. We took advantage of the tools we had to share ourselves with our audience.
What is your business philosophy?
Know your product, so to speak, and be knowledgeable about what you are sharing with the public. Knowing the work that we show in the gallery allows me to enlighten visitors with information they may not receive otherwise.
Outside of the gallery, what do you like to do?
When there is not a pandemic, I like to visit a lot of art centers and attend lectures. I am a big music fan, particularly jazz, so I go to concerts or live performances.
Where do you like to eat, shop or spend time in Flint?
I am a big fan of the Flint Farmers' Market, Cork on Saginaw and Hoffman's Deco Deli. I like going to Glam Boutique and seeing new arrivals. I also love taking self-guided driving tours of cities and exploring the older homes and neighborhoods. Flint has such a richness in that area.
How is the gallery involved in the community?
Myself, I frequently go out and speak to community groups or regional organizations such as rotary clubs of the Flint Women's Forum about art and art history. I have been called to jury regional art shows from time to time. We also participate in the Second Friday ArtWalks and we miss doing that right now. It is an opportunity for us to bring in local musicians and we considered it our monthly community gathering.
What advice would you offer business owners or future entrepreneurs?
I would go back to what I said before about my business philosophy: identify what you are going to serve and know your stuff. Be knowledgeable, but also listen to your clientele to learn what you may be missing.
MW Gallery is open Thursdays and Fridays from 11 a.m. – 6 p.m. and Saturdays from 11 a.m. – 5 p.m. The gallery is offering guided tours in the month of February for individuals and groups of up to 10 people. To learn more about MW Gallery, visit m-wc.org/mwgallery.html.
Photograph by Pop Mod Photo