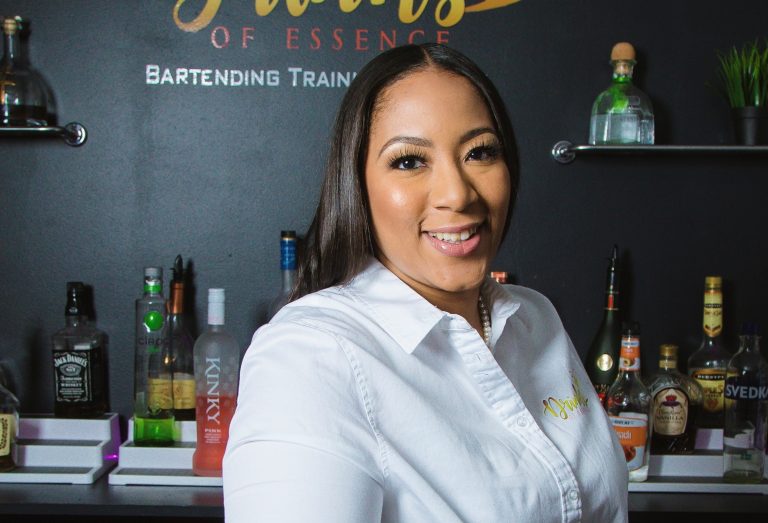 In 2015, Sheena Harrison was let go from her job working in social work and found herself at a crossroad: Continue down the road she was on or start something new.
"I wanted to do something that couldn't be taken away from me," says Harrison. "I set off to learn new skills and educate myself as much as I could."
Harrison started to brainstorm her next move and her first thought was bartending. So, she registered for classes at a bartending school in Detroit and after she received her certification, she landed a job at a local bar here in Flint.
"I honed my skills, practiced and got into the bar culture," says Harrison. "I became very good at bartending and others would ask me to teach them what I knew."
After a few years, Harrison was promoted to bar manager where she was able to train other bartenders and run various aspects of the bar. While working there, Harrison started a side business selling spiked treats such as drunken gummy bears and infused popsicles. Once she got that business up and running, she started to receive requests from clients to bartend private parties which led to her launching a mobile bartending service.
By now, Harrison's business was taking off and she was able to focus on it full time. She started getting requests from people to teach them how to bartend, however, she was hesitant of the idea. With some reassurance from her mentor from the bartending school she attended in Detroit, Harrison started to build a curriculum and look for places to set up her school.
Today, Harrison runs the only licensed bartending school in Genesee County, Drinks of Essence Bartending School, teaching mixology, running ServSafe alcohol certification courses, sharing knowledge of the bartending industry and providing cocktail seminars for corporate and private events.
What has been your proudest moment running your business?
Being able to see my students' eyes light up when I teach them a new skill. They'll get up and be super nervous, then the next thing they know they get it. One of my proudest moments is seeing how happy they are and knowing that I taught them a new skill.
Why did you decide to open your business in Flint & Genesee?
I am from Flint, and I love the city. I also think our bar scene might need some flair and why not help do that in my city.
Tell us about a mistake you made and what you learned from it.
At one point, I was sub-leasing an area from another person, back when I was doing spiked treats. I had to get the space licensed to be able to serve safely in accordance with the health department. I had put in sinks, put in refrigeration and knocked out some walls. Three months later, the person who I was sub-leasing from decided she wasn't going to stay there and then the owner wanted everyone out. After a couple of months of spending all that money, I took a loss. I was aware that it was not mine and I was putting money into it, but you don't look at it like that at the time because you're thinking about doing whatever it takes to grow and be able to run your business. I learned after that to never put money into something that isn't mine.
What is your business philosophy?
To help my community grow. I am in a place where I can help people pursue their dreams. I want to help my community by making them employable.
How is your business involved in the community?
We always partner with Z92.7 and Wayne the Barber for a Back-to-School rally giving away free snow cones and slushies for the event. We also work with local churches. This year, I plan to get more involved with the community which is one of the reasons I joined the Flint & Genesee Chamber.
What advice would you offer current business owners or future entrepreneurs?
Keep God first and never give up. There are always going to be difficult times, times where you don't know what to do next. But if you want to do it, stick to it.
For more information on Drinks of Essence Bartending School, visit DrinksofEssence.com