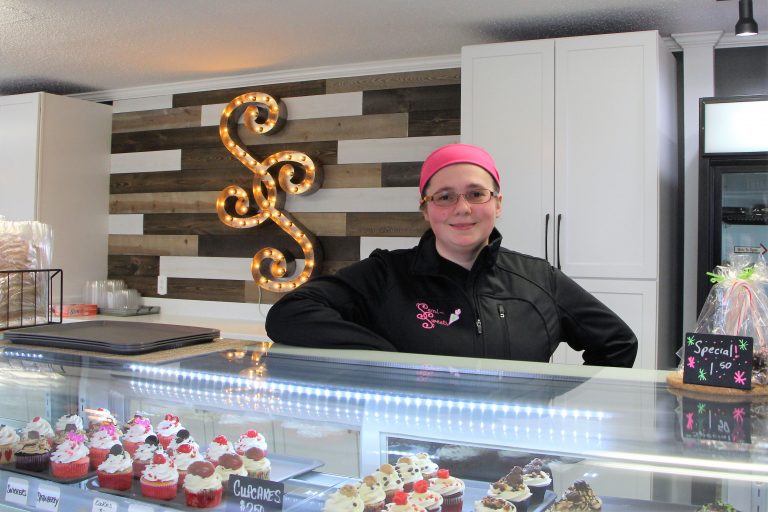 Local business owner Rachel Hougen opened her business after she discovered a need in the restaurant industry.
"I got the idea when I was working in a restaurant that couldn't afford a dedicated pastry chef," says Hougen. "I went to a few of my old chefs and asked if they'd be interested in buying pastries from me and they said, 'Absolutely, we would do that.'"
So, she started off small while still working a full-time job. But when an opportunity arose to open her own pastry shop at the new Flint Farmers' Market, she took the opportunity.
"We started with a small six-foot table open every Saturday at the Market," says Hougen. "Since then, we grew to a full double space and recently opened a storefront."
Hougen says there was a great turn out at the grand opening of her new storefront in Flushing (8474 W Mt Morris Rd). She is amazed by the community support and hopes to build on that success.
Why did you decide to open in Flint and Genesee County?
I grew up here. I am a graduate of Carman-Ainsworth High School and love the community. My husband and I are here, so I thought where else better to open my business than Genesee County.
Why did you decide to expand to Flushing?
It was far enough away from the Flint Farmers' Market that I could grow a new clientele but close enough that I could still deliver goods to the Market location.
How would you describe Flint and Genesee County to an outsider?
It's up and coming. There are so many businesses and start-ups. Downtown Flint is coming back to what it once was which is amazing to see.
What challenges have you faced while running your business?
Learning what customers want. When we started, we had a few items and quickly learned what was selling and what wasn't. The key was starting off slowly, which really helped us.
What resources did you use to help build your business?
I graduated from Mott Community College Culinary Institute with a degree in food service management, a culinary arts degree and a pastry certificate. That gave me some of the knowledge I needed to start my business. I also utilized Flint Food Works from the beginning. Flint Food Works is a culinary incubator at the Flint Farmers' Market. I was able to utilize their kitchens, which helped with startup costs.
 What is a mistake you made and what did you learn from it?
What is your business philosophy?
"Have a sweet day." It means making someone's day a little sweeter or just putting a smile on someone's face. I want to share a little bit of love and a little bit of my passion with everyone.
Where do you like to eat, shop and spend time in Flint and Genesee County?
I love eating at Lucky's Steak House. After work at the Market, we sometimes go up to Market Tap – the Market is probably where I eat and drink the most. I spend most of my money at Lovegrove's and the Sweet Shop, which are sprinkle and candy stores.
What advice would you offer other business owners or future entrepreneurs?
It's very hard to be a business owner. You never get a break, even on your day off you're still thinking about work. You must have a passion for what you do because if not it's not going to make you happy like sweets make me happy.
To learn more about Semi-Sweets, LLC, visit semisweets.com.