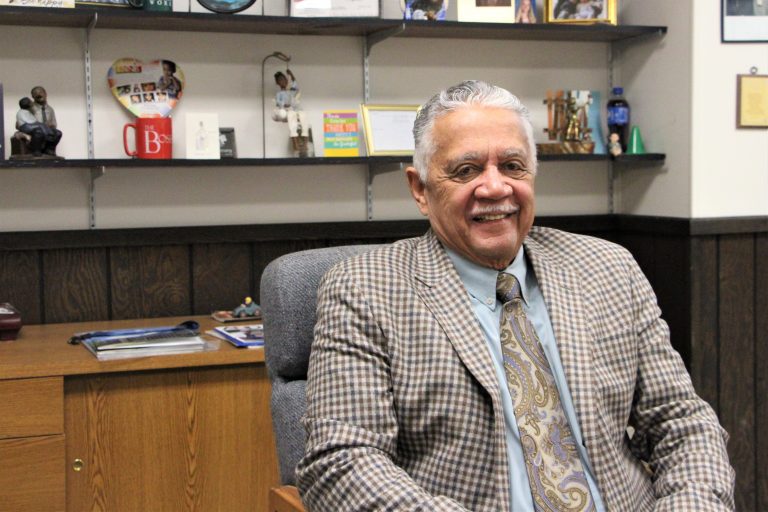 Since he was 9 years old, Bob Ennis knew he would one day be working with children.
"When I was young, my parents divorced and I ended up living with my grandparents and uncles," says Ennis. "I knew then I was going to be working with kids like me and God blessed me to be doing that for the last 50-some years."
The Ennis Center for Children was established in 1978 by Ennis, who previously worked for the Department of Social Services, now the Department of Health and Human Services. While there, he saw problems with how children from unstable homes were put through the system and wanted a solution to help children stay with their family or find a new family while putting them on the right path.
"I found that too many kids ended up in either an institution or institution elected training school," says Ennis. "We said, 'Let's open an alternative to that. Let's open a treatment foster care program.' And so, we started the Ennis Center here in Flint."
For 42 years, Ennis Center for Children has provided foster care and adoption services in Flint and Genesee County, along with other programs including foster parent training, art therapy programs and out-patient mental health services. Ennis Center has expanded to Detroit, Pontiac, Port Huron, Monroe and Howell over the past 40 years.
Why did you decide to open in Flint?
Holly, Michigan is my home. But when I got into the workforce, Flint became my hometown.
How are the cities you've expanded to similar to Flint?
Through our expansion, I came to realize that although each city is different in its own right, they all have many similarities such as drugs, poverty, mental health issues, illiteracy, and crime.  They also have a strong sense of community, they care about their youth, and have a commitment to collaboration to the betterment of their residents.
How does the Ennis Center help with literacy?
Through our Fostering Creativity program, our youth have shown academic improvement by a full grade in as little as three weeks.  Fostering Creativity "sneaks" literacy into art projects they work on, and kids are learning in an atmosphere they enjoy.
How would you describe Flint to an outsider?
What is your organization's philosophy?
Someone once gave me a great definition of parenting that I take on now as our own: "Give a kid roots and give a kid wings." Kids need roots so they can grow, then they need wings to soar. Kids come here and their roots have often been pulled loose.  With the help of our foster parents, our goal is to re-root our kids so that they can begin to thrive.
What is a mistake you've made and what did you learn from it?
The first mistake I made was trying to treat all kids in the community.  Unfortunately, sometimes kids are so emotionally distraught or come from families that are so damaged that they are harmful to themselves or the community and we, at Ennis Center, just cannot help them.
What advice would you give future entrepreneurs or people who wanted to start a non-profit organization?
You must love the work!  When you first start, you're going to fall, and you're going to want to give up. But, if you love the work and believe in it, you can get people around you to believe in it also. That's when you start to make a difference.
Has that advice worked for you so far?
I started this organization with $6,000 I borrowed from a local attorney – a woman that I love dearly, who has since been paid back, by the way. She always says to stop mentioning her, but she is part of that fertilizer that gave us roots that we needed so that we could fly. She believed in me. It's so important to have someone who believes in you.
To learn more about Ennis Center for Children, visit enniscenter.org.