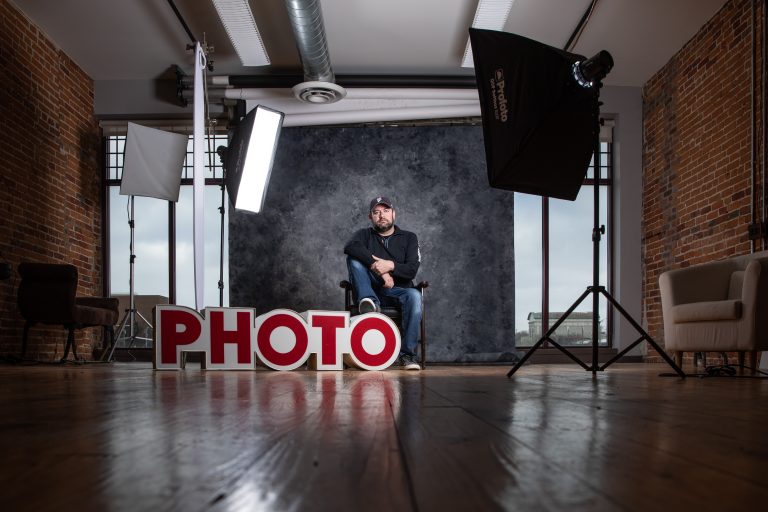 Mike Naddeo has had an interest in photography since middle school, where he spent his time developing photos in his school's darkroom. However, when he graduated from high school and entered the workforce, his path took a different direction.
"In my 20s, I did all manners of things," says Naddeo. "I sold cars, and then worked as an event manager for Red Bull of Michigan. Then, at 30 years old, I decided to go back and finish college."
Naddeo began pursuing a degree in physics. Although he took some photography classes as electives, it wasn't clear to him yet that he would want to make that a career. However, after meeting with his department advisor, he had a change of heart.
"I just got done with Calculus III and my advisor said, 'Congratulations, only five math classes left,'" says Naddeo. "I left that office and went directly to the art department."
Now, Naddeo owns Mike Naddeo Photography, a 12-year-old business he grew from the ground up. His company provides photography and videography services to local businesses, community organizations and individuals in and around Genesee County.
"I like to give people national caliber work for local prices," says Naddeo. "I try and make my photos and video look like something out of a national campaign without the added expense."
This approach has allowed him to lend his services to many community organizations and non-profits in the area – which is something he is very passionate about.
How are you involved in the community?
I have served on several non-profit boards; I was the past chair for Friends of the Alley and sit on a committee with the Hurley Foundation now. We give back a lot and try to return as much money we can to the non-profits that invest with us.
What is your favorite memory or proudest moment?
I have a few campaigns that stand out to me, but the biggest one is the "Flint Kids Are" campaign I did with Karl Olmsted in 2015. It's been circulating for a long time after and it is nice to see it if still living on.
Why did you choose to work in Flint & Genesee?
I have lived here for most of my life – it's home.
How would you describe the area to an outsider?
It's tough – you have to have people see it. Flint is rough around the edges, but gritty in the middle with a lot of heart. There are a lot of people here who want to better the community and we have the help here to do it.
Where do you like to eat, shop and spend time in Flint & Genesee?
All over! We live in Grand Blanc but generally find ourselves in Flint. We go to the Cork on Saginaw quite a bit, but we eat everywhere. For shopping, I like Bridge Street Exchange in Fenton. For all my wife's birthday presents I go to Shift in downtown Flint; they know what she likes, so I call them up and they'll put something together for me.
Why did you join the Chamber?
I felt like it was a good way to connect and help grow my business. The Chamber (along with the Flint & Genesee Group and its other divisions) has become a very good client of mine. I have formed a great relationship with the marketing staff since joining as a member. I also constantly get business from other members of the Chamber.
For more information on Mike Naddeo Photography, visit MikeNaddeo.com.
Photo courtesy of Mike Naddeo Photography