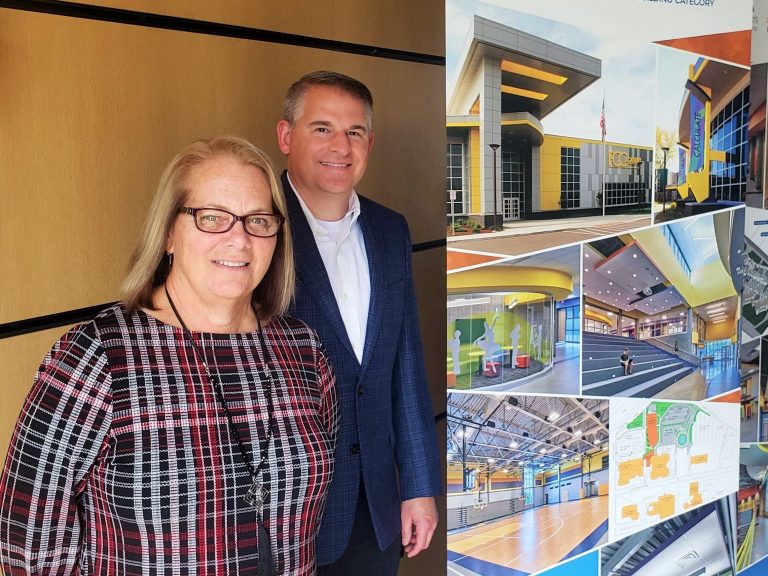 THA Architects Engineers began in 1957 when two local architects, Cliff Gibbs and Jim Tomblinson, decided to go into business together. A few years later, Gerry Harburn joined the firm and together, they began to build a 63-year legacy.
"I happen to be lucky enough to have worked for all three founders at one point," says Madonna Bennett, President of THA Architects Engineers. "I was hired as an intern 33 years ago – before I found out I passed my licensing exam – and I have been here ever since."
Madonna concludes that it hasn't felt like over three decades, but she found her footing at THA and she hasn't looked back since. On the contrary, upcoming second in command, David Bennett, who is Madonna's stepson, started at the firm at a young age but spent some time trying to break off on his own.
"I started here as a high school student working as a gopher for the partners," says David. "After college, I worked here for around 15 years before I branched off. Although I loved running my own business, I missed the collaboration that comes from working for a firm. I've been back for about six months now."
The firm, which specializes in designing K-12 schools, has worked on many buildings throughout the area including Lake Fenton High School in Fenton Township and the Flint Cultural Center Academy in Flint. However, the firm has also worked on projects in cities around the world including Dubai and Cairo.
"We have a client that we've been working with for over 20 years designing schools in the Middle East," says Madonna. "It's a unique experience that has given us an appreciation and interest in other countries and how their architecture differs."
Even with its wide reach, the firm is rooted in Flint and will remain a fixture in the community for years to come.
How would you describe Flint & Genesee to an outsider?
Madonna: I have had to do that before when I bring friends and relatives to the area. I show them around and they see what isn't around anymore from the effects of GM leaving the area. However, in turn, I show them all the new things that downtown Flint has to offer. We go out to dinner and I show them how different places are and they are amazed. I see it as my opportunity to make sure they see the good things about the area.
David: It is fun to show people around, especially those who may have only heard the negative things about Flint. I like to show them the historic buildings and neighborhoods. We go see the river and I show them how it's been cleaned up throughout the years. I have found some people who even live in the suburbs of Flint that don't realize the vibrancy of the city.
Where do you like to spend time in Flint & Genesee County?
Madonna: I like to dine at locally-owned restaurants like 501 Bar & Grill and Blackstone's Smokehouse in downtown Flint, or Little Joe's in Grand Blanc. I love being able to try different kinds of foods. As for activities, I like getting outside. Recently, we went to the new Atlas County Park. It was very enjoyable.
David: We love eating out, my family mostly agrees on Italia Gardens for dinner, but we also love Pesto's. We love finding little niche places like that. For fun, we enjoy walking through nature trails like the one in Flushing.
What is your business philosophy?
Madonna: Relationships built on integrity. We have some clients who have worked with us for over 50 years and when they need something designed, they still call us. They may have to speak to a different person, but we still have that relationship.
David: Roughly 80 percent of our clients are repeat business and that is very important to us. We strive to be great community partners and work together with our clients to produce the best product we can.
What is your philosophy when it comes to leading?
David: The biggest thing for me when developing my own managerial style is to start with the staff. Valuing them and putting effort into retaining employees is what helps make us successful.
Madonna: I agree, valuing our staff is important. I like to focus on bringing in new and exciting projects to ensure our employees feel like they're growing and learning at our firm. I don't want our employees to feel they can get a better experience working elsewhere.
What is a challenge that you have faced, and what did you learn from it?
Madonna: The recession of 2008 didn't really affect us until about 2012. Before that, we had all these plans on how our business would grow, who would take over the firm next and who would move up after that. Then, all of those plans went out the window. That made me realize that plans are important but you have to be willing to make room for the unexpected.
What advice would you give current business owners or future entrepreneurs?
David: I would stress the importance of learning the business side of things. When someone starts a business, they usually focus on the service they want to provide and don't fully understand the nature of business. There are a lot of entities in the area that are there to help new businesses thrive and survive. I would encourage people to look into those services and get diversified advice, so they can be as prepared as possible.
Learn more about THA Architects Engineers at tha-flint.com.