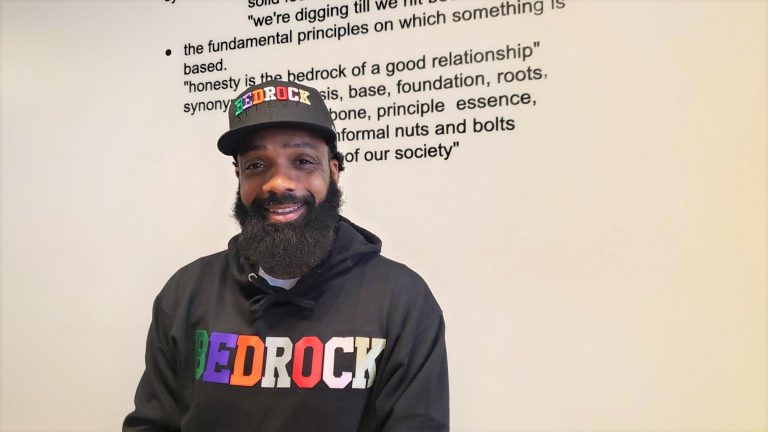 Bedrock Apparel owner Jason Trice – a Flint native that moved back to the area in 2017 to help take care of his mother – wanted his brand's name to have a special meaning.
"When I was growing up here, I was friends with the group of kids at Flint Northern High School who became known as the Flintstones at Michigan State," says Trice. "I thought back to the cartoon and the place those Flintstones lived. That is how we landed on Bedrock."
Although that is where the term derived from, Trice knew it was the right choice after looking up the definition, which is, "solid rock underlying loose deposits such as soil or alluvium," and "the fundamental principles on which something is based," according to Oxford Languages.
"That definition directly connected with what we wanted our brand to be," says Trice. "We are solid, we cannot be broken. We are the foundation building something."
But that is not the only unique feature of Trice's brand. The signature Bedrock design, or the traditional colorway as Trice describes it, has a special meaning as well.
Trice explains: "B is green, standing for what you want to make. E is purple for royalty. D is orange for Miami, where I had a great career for years. R and O are red and grey for Flint Northern. C is pink to honor friends and family who have fought breast cancer. And K is gold for my fraternity Alpha Phi Alpha."
In 2017, when Bedrock started to sell clothing in the consignment shop Everything Flint on Beecher Road, they could barely keep up with demand. So, when they got the chance to move into the newly renovated Capitol Theatre Building, Trice jumped at the opportunity.
Since then, Bedrock Apparel has been successfully moving forward. While still in the heart of Flint, the clothing brands reach is far beyond the city.
Tell us about how your brand got on a national stage?
When I first came up with the design, I made one for myself and wore it to a Jay-Z concert in Detroit. I posted a picture of myself on social media wearing it and people loved the design.
Eventually, a good friend of mine Gabrielle Union-Wade asked me to send her some and she loved it. Little did I know, she was interviewed for an article in InStyle Magazine about her new book and they asked what a good book club needed. She said it calls for the coziest attire and that she wore Bedrock hoodies.
That was the boost we needed. We had athletes and other entertainers wearing our things, but when an international actress showed off our apparel, that really gave us the validity that we needed.
How did COVID-19 affect your business?
We were blessed to not have to take a differed rent or stimulus. We were able to continue with our storefront closed until we could open back up. We opened our doors again on the weekend of Juneteenth and you would have thought it was Christmas. That shows how much the community has embraced us.
Before moving back and opening Bedrock, what did you do?
I owned a luxury car service concierge in Miami, FL. I worked with a lot of athletes including LeBron James who used my service exclusively. I connected with his business partner when I opened my service and asked for the opportunity to work on his team when I found out they were coming to Miami. He gave me a chance and I took it and never let it go.
How would you describe Flint to an outsider?
Usually, I don't have to. Most people I know have been around Flint people before. They know we are strong and resilient. For the most part, people from Flint are straightforward, hard-working people. That is what people know us as.
Senator Kamala Harris met with you while she was in Flint, how was that experience?
It was amazing! We had a lot of things in common being part of the same Black Greek organization. Initially, people around us were wondering what we were laughing and talking about. I had on my fraternity's colors but on a Bedrock sweatshirt, and she noticed it.
What is your business philosophy?
To treat everyone like family and make them feel welcome.
Away from business, how would you describe yourself?
As a family man. I moved home for my family and I spend a lot of time with them. That makes me happy. Before I moved back, I hadn't lived home since I was 17. To be here and see my cousins and aunties and to just be around my family has been very good for me.
Where do you spend time in Flint & Genesee?
I am a downtown guy. I live in a loft downtown. I spend my money in my community. I am always at XOLO or 501 Bar & Grill or the Eberson. Although, if I do cross town, I love to go to Foutch's Pub.
What advice would you give other business owners?
Keep your nose to the ground. If you are working hard, success will find you. It is the people looking for shortcuts that it's not going to be easy for. Hard work and success will always meet.