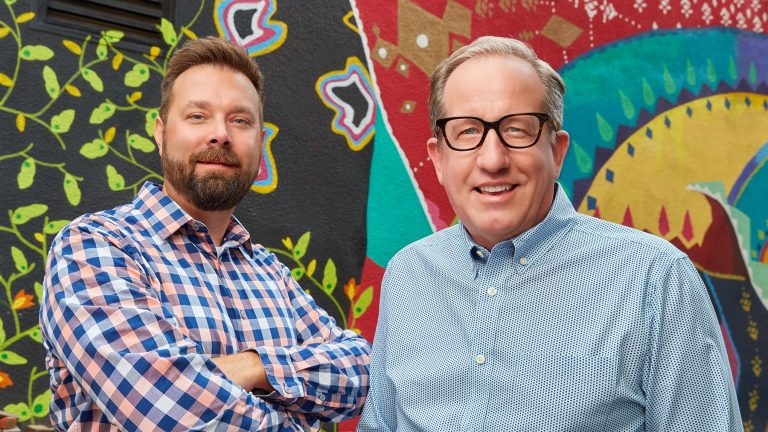 Back in 1986, Karl Olmsted chose to leave his career working as a communications director at the University of Michigan-Flint to make it on his own.
Starting as a freelance graphic designer, his company Olmsted Associates, Inc., has grown to a full-service communications firm offering everything from strategic communications planning to fully integrated advertising campaigns and digital communications projects.
"Our business philosophy created over 20 years ago is Creative Thinking for Communications," says Olmsted. "It still rings true today. Regardless of the client's strategic objective, our goal is to connect audiences to our clients on an emotional level."
In 2017, Brian Sanderson became a partner and together their goal is to continue to serve Mid-Michigan's advertising and creative communications needs.
"In my role, I want to ensure we maintain continuity for our employees and clients and extend our core mission," says Sanderson. "We are focused on the now, but still keep an eye on new business opportunities."
For the past 34 years, Olmsted Associates, Inc. has been rooted in downtown Flint and is proud to be part of the creative and entrepreneurial spirit that flows through the city.
Why did you decide to open in Flint?
Olmsted: It was a natural evolution having worked at the University. I started freelancing with local clients and it evolved into opening a shop.
How would you describe Flint to an outsider?
Sanderson: There are a ton of great things happening downtown from creative entrepreneurs to new and interesting bars and shops to world-class murals. It seems that people are being thoughtful about what makes the most sense for the city. I am proud that we are part of downtown.
What challenges have you encountered along the way?
Olmsted: Our biggest challenge was during the economic recession in 2008 and 2009 but we persevered and worked through that. The COVID-19 pandemic has presented some unexpected challenges especially when we were forced to work remotely for 12 weeks. But in both cases, we rose to the occasion and stayed focused on our clients.
Outside of business what do you like to do?
Olmsted: My passions are travel and contemporary art. I am a proud member of the Flint Institute of Arts board of trustees.
Sanderson: I enjoy the summer months doing outdoor activities such as kayaking. I also spend my time volunteering with a variety of organizations including the American Cancer Society's Real Men Wear Pink campaign.
Away from business, how would you describe yourself?
Olmsted: I am a bit more reserved but social at the same time. I like having downtime to be contemplative, but I also do a lot of entertaining.
Sanderson: In the office, I am very engaged and social, but on the weekends, I use that time to connect with a close-knit group of friends and family.
Where do you like to eat, shop and spend time in Flint and Genesee County?
Olmsted: I love downtown Flint; I just took a client to the Eberson recently. I live in Fenton, so I spend a lot of time with friends there and also on the west side of the state.
Sanderson: I live in Linden, so I spend a lot of time there or in Fenton. I also enjoy spending time in the city at Xolo or the Flint Farmers' Market.
What advice would you offer future entrepreneurs?
Olmsted: Never underestimate the power of relationships and building those relationships by volunteering, joining organizations to serve the community. Building those relationships can ultimately lead to new business ventures.
Sanderson: Stay focused and keep true to your mission. Don't get distracted along the way; focus on your clients first and make sure all their needs are met.
For more information on Olmsted Associates, Inc., visit www.olmstedassociates.com.
Photo courtesy of Olmsted Associates, Inc.