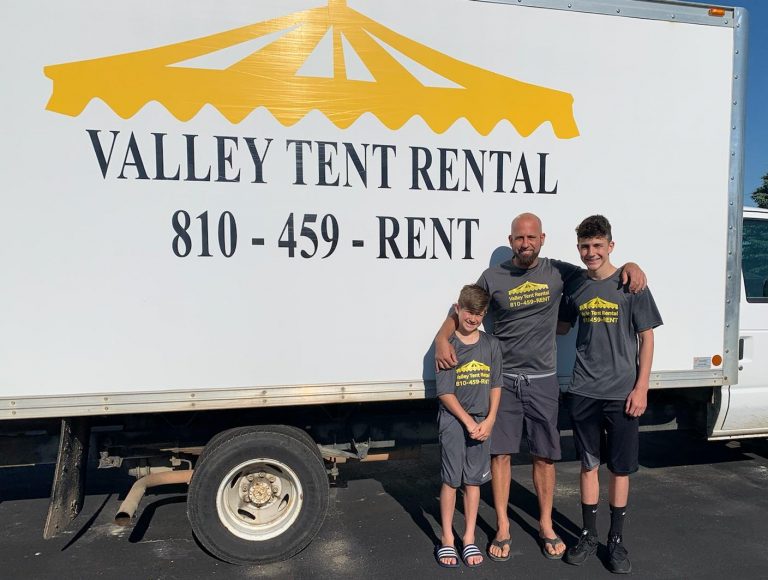 Jeff Valley started his business, Valley Tent Rental, soon after he graduated from Goodrich High School. The idea stemmed from a comment his father made.
"We rented a tent for my graduation party," says Valley. "My father said, 'You should buy a tent and start renting it out' and I did."
What started as a side job with two tents and a trailer has turned into a big operation 25 years later.
"After few years I left my job working in telephone fiber optics and did this full time," says Valley. "Four years ago the owner of Ford's Party Rental was going out of business and we purchased the business."
Now, the owner of both businesses employs around 30 people during the summer months between the two businesses and continues to grow.
"I found a need and it's worked out great," says Valley.
What are your favorite memories from the last 25 years?
When I started, I was coaching basketball and hired some of the players during the summer. The memories of the four of us working those first few years and some of the memories that stay with me. We are all still friends now and talk about the good times.
Why did you open in Flint & Genesee?
I grew up here. I moved to Oakland County for a while, then moved back here after a while. I am Goodrich born and raised.
How would you describe the area to an outsider?
I enjoy it because there isn't a lot of big city craziness. I like being out in the country but being close to everything we need.
How has the coronavirus pandemic affected your business?
We've been a recession-proof business for years, but with COVID it was very uncertain. A lot of our business was canceled or rescheduled, but the day the stay at home order was lifted our phone blew up.
How has your business model changed with the pandemic?
With restaurants opening back up we are facilitating renting equipment for outdoor seating areas. It's a new revenue stream for us. Beyond that, we are taking more steps for cleaning to make sure our equipment is safe for our customers and also our staff.
What is your business philosophy?
Making sure people are happy with our equipment and making sure we stick to our word.
Outside of business what do you like to do?
I have two boys. So, our lives are usually filled with sports and kids. I am blessed because I work very hard for six months of the year then I am able to kick back and hang with the kids for the other half of the year.
How does your family fit into your business?
I am starting to get them involved. Our oldest is 13 and now that school is out he has started working for Valley Tent Rental.
What are your plans for the future?
Giving Ford Party Rental a much-needed facelift. It's was such a long-standing company some of the equipment has aged. Other than that, we don't want to grow too much to where we can't provide a good product.
What advice would you offer future business owners?
Just go for it. I had a dream, and everyone thought I was crazy. But I found my niche and I love it.