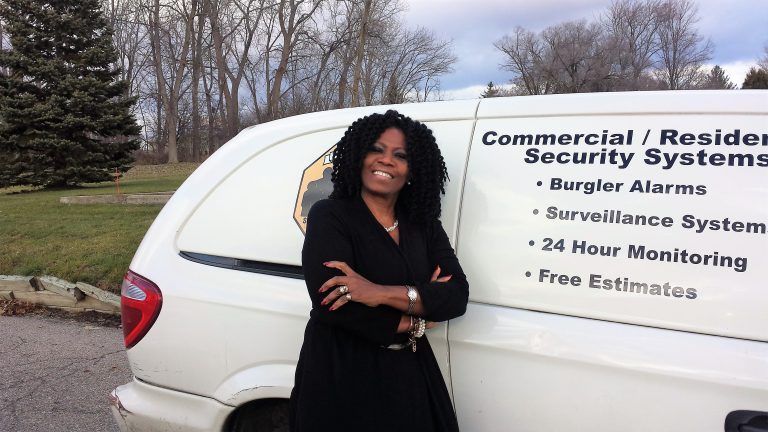 In 2003, after working in the security sector in the Flint area for six years, Deborah Johnson and her husband, Michael, decided to take the business into their own hands.
"Why not go out on a limb?" says Johnson. "Isn't that where the fruit is?"
Working in their basement, the couple launched Citizens Statewide Security, Inc.
"We started with the money I had in my 401K," says Johnson. "Our first target was security system takeovers and, at first, we didn't pay ourselves. Any money that came in went right into the business."
Seventeen years later, the business continues to grow each year. The husband-and-wife duo has since moved out of their basement to an office location and increased their staff to four, with plans to add more.
"Every year we do better," says Johnson. "One of my proudest things we've been able to do is make a steady climb."
What has been one of your favorite memories?
We became very busy a few years ago and needed to grow. I contacted Tracy Joseph at the Flint & Genesee Chamber of Commerce and she recommended we participate in KIVA, a crowdfunding loan program. We reached our goal of $10,000 and were able to use that money to hire our technician. This has allowed us to make more commercial bids.
What are some challenges you've encountered during the last 17 years?
Our biggest challenge, and it pops up every year, is managing our customers when out-of-state companies come and target them.
Right now, we also have the challenge of the pandemic.
How has the COVID-19 crisis affected your business?
Our business has slowed down. We are an essential business, but we don't want to put ourselves or our employees in danger. So, we interview customers before we go out to make sure no one in their house is sick. We have had to turn down some business to stay safe. We have also had appointments that were canceled because people don't want you in their home.
Financially, it has hit us. But we're blessed to be part of the Paycheck Protection Program through the Small Business Association of Michigan and that we didn't have to lay off any of our employees.
What is your business philosophy?
Our customer is our boss. They're the reason why we are in business and they're always right. We go above and beyond for our customers and will always go the extra mile for them.
How would you describe Flint to an outsider?
Everyone seems to be connected in some way. People are friendly and outgoing and make you feel accepted. Everyone is willing to extend a helping hand. When I first came here, I would ask people for a referral and they would sit there and call someone for me and have me talk to them right there. It makes it feel like home. It was a blessing when we came here.
What are your plans for the future?
We are looking to grow. We want to hire more staff. We need an administrative assistant and another technician because we are looking at going after more government contracts. We also plan to buy our own building where we can grow and expand.
What advice would you offer future entrepreneurs?
Just be persistent. Talk to people who are already doing it and get advice. When anyone asks me for business advice, the first thing I ask them is if they are a Flint & Genesee Chamber member and if not, I encourage them to join.  One of the best things I did for my business was joining the Chamber. I didn't join right away, but when I did, a lot of resources became available to me.