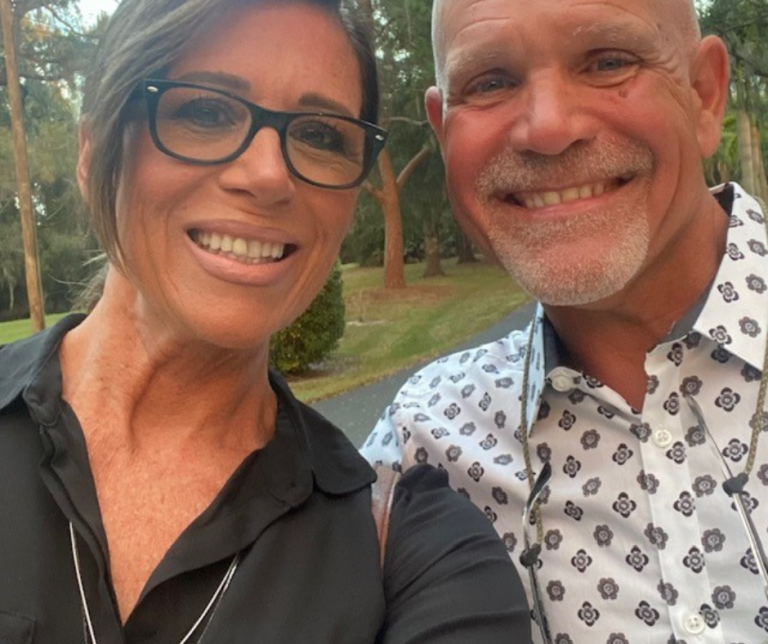 Based out of Burton, M.A.C. Transport, Inc.'s roots began in the 1940s with Chris Marlowe's great-grandfather was a pig farmer. As a pig farmer, he would collect food scraps from his neighbors to feed his livestock. When that became undoable due to regulation changes, the neighbors were still in the market for waste removal. So, the pig farm turned into a landfill, launching the Marlowe family's first transportation company.
"My husband and I met when we were 15 years old, and both worked for his family's company," says Cynthia Marlowe whose grandparents were also farmers that relied on transportation, specifically horse-drawn trailers, to haul crops. "After a while, Chris' great-grandfather's business was sold, and other family members started their own businesses. After my husband worked for one of the businesses that the family company was sold to, we decided to go out on our own."
That is what the Marlowes did in 2000 when they started M.A.C. Transport as a trash and recycling company. From there, the company has grown and has changed to hauling items other than waste.
"After 2008, when the recession hit, recycling became less profitable," says Cynthia. "We ended up closing our recycling center and hauling freights instead."
Now, the company hauls a variety of items and doesn't have many limitations on what they will transport, except for one.
"Above all, it has to be legal, moral and ethical," says Chris Marlowe. "Our main specialties are auto parts, prepared animal feed, cardboard for recycling, paper stock to make new boxes and salt water."
The business works with a variety of clients including Landaal Packaging Company, Genesee Packaging Company and the State of Michigan.
Why open in Flint & Genesee?
Cynthia: That one is easy – we live here! Chris grew up in Flint schools and I grew up nearby in Clarkston.
What do you like about having a business in Flint & Genesee?
Chris: It's a great place to be located for transportation because we have access to major highways in all directions – north, south, east and west. We're also in the heart of the automotive industry and are proud to be part of that.
What is one thing you have learned that has shaped the way you do business now?
Cynthia: When great-grandpa started his business, a handshake meant something. This was something we witnessed growing up.
Early on, there was a local company that was in a bind because their equipment went down, and we took over their customers for a few months. We had a signed paper, but they were also a family business, so we didn't run it by an attorney. They ended up owing us a lot of money. We were a young company, so it hurt. But we learned that you need to stick to a system and have professionals in place to help you.
What is your business philosophy?
Chris: Delivering extraordinary service by going the extra mile and remembering that there is never time to do it right but always time to do it over.
That last part, what does that mean?
Cynthia: We use that phrase a lot: "There is never time to do it right but always time to do it over." If you cut a corner with a truck, you can take out another vehicle or a powerline. It's the same with business. If you cut corners, it will always come back on you. You can't always be perfect, but there is so much you can do to prevent disasters, including not cutting corners and following through with what you say you are going to do.
Outside of business, what do you two like to do?
Cynthia: We love being outdoors – biking, hiking and skiing.
Chris: We also love time with our kids and grandson.
How does your business help the community?
Cynthia: I am trying to work with the Michigan Center for Truck Safety to help students who are getting their driver's licenses understand what it's like to be behind the wheel of a semi-truck and drive one around. We have a large yard on our business' property and hope to partner with drivers training programs to put students in the passenger seat with our drivers to see what that looks like from both the truck driver's perspective as well as those around them. I think it would be a wonderful collaboration to promote safety while driving around big trucks.
How has MAC Transport worked with the Flint & Genesee Economic Alliance?
Cynthia: They reached out to us and that was fabulous! They met with us at the office and educated us on what they could help with, like assisting with hiring opportunities and connecting us to grant opportunities for training employees. After that meeting, they came back, brought other team members and followed up, continuing to check in with us.
What advice would you offer other business owners or future entrepreneurs?
Cynthia: Find a good team for starters. I mean a professional team that assists with running your company — a good accountant, attorney and human resources support. Plug into your community and talk with local chamber and economic development groups that might be in your town.
Chris: I second all of that! People start businesses because they are passionate about it, but it doesn't mean you know everything it takes to run a business. So, a support team is vital.
For more information on M.A.C. Transport, visit MACTransport.com.