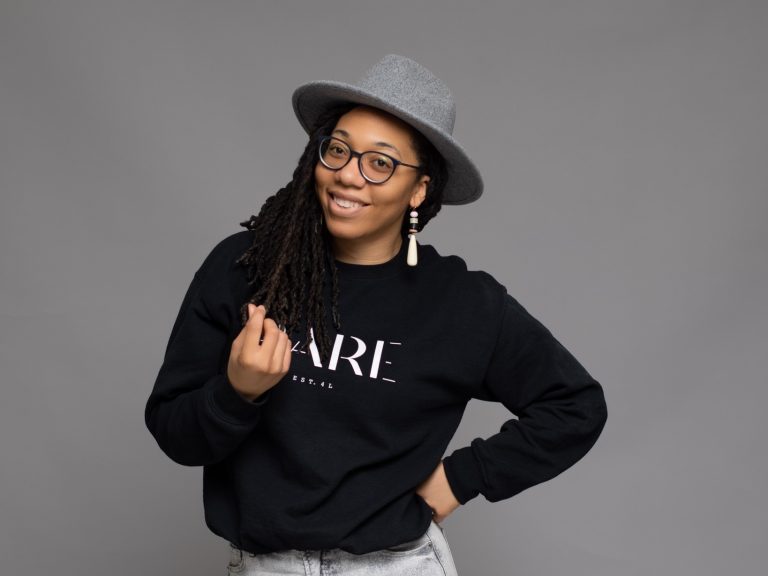 Starting a business wasn't the goal for Alexandria Green, but that changed after she took a break from her career in higher education to move back home and decompress.  
Photography had always been a hobby for Green. In high school and college, she used point-and-shoot and disposable cameras to take photos of friends and loved ones. But she dreamed of leveling up her hobby with better equipment. 
"I always said once I got my first big girl job, I would get a DSLR camera," says Green. "After grad school, I was working at Savannah College of Art & Design and a photography student helped me purchase one." 
After a few years of doing gigs on the side, Green decided to attend a photography conference in Detroit. There she met her mentor and a ton of photographers, both hobbyists and professionals. After the conference, her biggest takeaway was that she could viably turn her passion into a business. 
"I got incorporated into the photography community and thought, 'it's possible to run a stable photography business full-time,'" says Green. "I never had a desire to be an entrepreneur, but I ended up getting laid off and decided to go for it and I've been doing it ever since." 
That was in November 2017, and six years later Alexandria Chrisele Photography is still going strong. Green boasts her business as a boutique photography studio specializing in senior, personal branding, and headshot portraits.  
What has been your proudest moment since starting your business?
Moving into my first studio space of my own. When I got my own studio, it opened things up for me to do more and grow. I also got to share the whole experience from finding a space, to building it out with my parents who are also entrepreneurs. My dad, JAG The Haberdasher, has been a business owner in Flint for 25 years and he hadn't had a storefront in a few years. So, he joined me, and we got a 2,400-square-foot space. I took half and he took half. My mom helped me furnish the space and hang wall art. She also painted the entire space while I laid the floor. These are memories that are really special to me since she passed away recently. 
Why did you choose to keep your business in Flint?
When I came back to Flint, I thought I would be leaving. But being back home was nice. My parents had some health issues I could help with, and I got involved with a youth organization, Young Life. I have always been family-oriented and began building here again, staying came easily. Home is home. It's like my dad always says, "Flint's been good to me." 
What is your business philosophy?
When you're in business for a while your philosophy becomes your ethos – after a while, it's more of an experience. On our website, it says, "You deserve a simple, stress-free, and enjoyable portrait experience." I want to do business to the utmost standard, to be honest, and to have integrity. The goal is for individuals and businesses to walk away with portraits they love and can pass down through the generations or generate sales through their marketing plans. 
How does your business get involved in the community?
I do my best to be present and supportive of other businesses in the area. I try to go to as many of the Chamber's African American Advisory Committee and Women's Leadership Committee meetings as I can. I attend ribbon cuttings for local businesses when I am available. I try to be supportive of the things that are happening in the community.  
Outside of business, what do you like to do?
I'm really laid back. I love making and trying new food. I love to roller skate, and I love to work out. My parents have a church where I minister. I am also spending less time doing things and more time resting and healing as I grieve my mom, who was also my best friend.     
Where do you like to spend your time in Flint & Genesee?
I think Penny's Café has the best coffee in the city. I also eat a lot of curry bowls from Sweet Peaces at the Flint Farmers' Market. I sometimes skate at Rollhaven or Skateland. I typically go to a local gym called I Am My Billboard Fitness, owned by a young Black married couple, Ed and Toni Wilson. 
Why did you join the Flint & Genesee Chamber?
When I had my first office at the Ferris Wheel building, there was a gentleman on my floor named David Mosely. He's a financial advisor who helps people plan their finances and also get out of debt. I called him my business uncle. When I was leaving the Ferris Wheel and moving into my own studio space, he gifted me a Chamber membership. He paid for my first year, and that is how I started being more involved.  
To learn more about Alexandria Chrisele Photography, visit AlexandriaChriselePhoto.com.