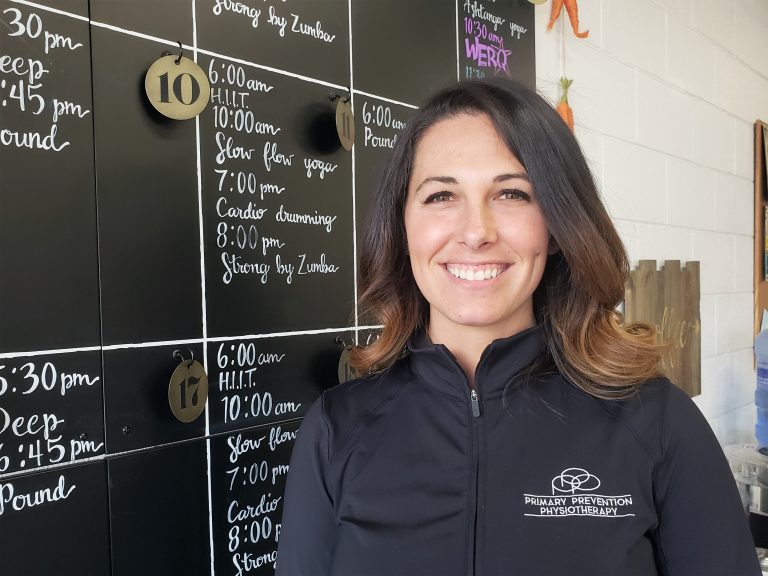 While Amber Schlemmer was working as a personal trainer she noticed that some of her clients were also physical therapy patients who had run out of insurance benefits. She quickly realized that she was doing things outside the scope of her expertise to give patients what they needed.
"Instead of telling my clients no, I decided that physical therapy school was the next step," says Schlemmer. "Going back to school kind of fell into my lap, but I have never regretted the decision."
With two small children, Schlemmer attended the University of Michigan Flint while commuting from Flushing. Upon completion of her degree, she knew it was time to settle down.
"My husband owns a small business here as well," says Schlemmer. "So, I knew Flushing was the place where we would establish our roots. I love being able to help the people who helped me learn and grow."
After obtaining her graduate degree, Schlemmer opened Primary Prevention Physiotherapy. Since 2017, her business has continued to grow, helping people in the community live a more pain-free life.
Tell us about the beginning of your business.
I started as a direct pay therapist to eliminate the hurdles of insurance. It was going very well, but my biggest limitation was lack of space. I partnered with a local ballet studio. I saw my patients during the day and they had ballet class in the evenings – it was a win-win. I credit the studio for making me brave enough to open my own commercial space.
What challenges have you encountered?
The way a lot of clinics operate, there are up to five patients being worked on at a time. Insurance companies don't understand the importance of one-on-one time with patients, so the reimbursement isn't always there. One of our core values here is patient experience and making sure our goals for patient outcomes are met. I can't do that without one-on-one care. So, that has been one of our recent struggles.
What is your business philosophy?
The clinic's motto is, "One day or day one, the choice is yours." Every person gets to make choices that impact their future. They can choose to live passively and let things happen to them, or they can choose to make their own destiny. I didn't want to keep providing sub-par care when I knew that I was capable of so much more. I take that same perspective and shift it onto my patients.
How do you get involved in the community?
What are your plans for the future?
Part of my business model is to be more than just a physical therapy clinic. We treat the patient from a totality perspective. It's not just about treating knee pain, it's about creating a lifestyle for the patient. We advocate a whole food, plant-based nutrition program. To foster this lifestyle, we are working on writing grants to establish a community demo kitchen and a plant-based grab and go area, where people can come and get healthy food.
I am also looking to partner with a lifestyle medicine facility to provide more holistic care for people with cardiac diagnoses. We want to establish a nine-week program that integrates nutrition, exercise, stress levels and management skills, and social support. Integrating those elements equates to much higher success in treatment.
Where do you like to eat, shop or spend time in Flint & Genesee?
I am loving downtown Flint and all the shops opening, like Shift – I am in love with that store. I met with the team at 100k Ideas to try and advance some concepts I am working on. And the Ferris Wheel building is amazing. I am in Fenton and Linden quite a bit. I play volleyball at the Barn and my daughter goes to Dr. Wax Orthodontics.
If you could offer advice to future business owners what would it be?
Just do it. You're going to spend too much time worrying about the details. Just take the first step and get it going, because the more you sit, the less likely it is going to happen.
For more information on Primary Prevention Physiotherapy, visit www.primarypreventionpt.com.