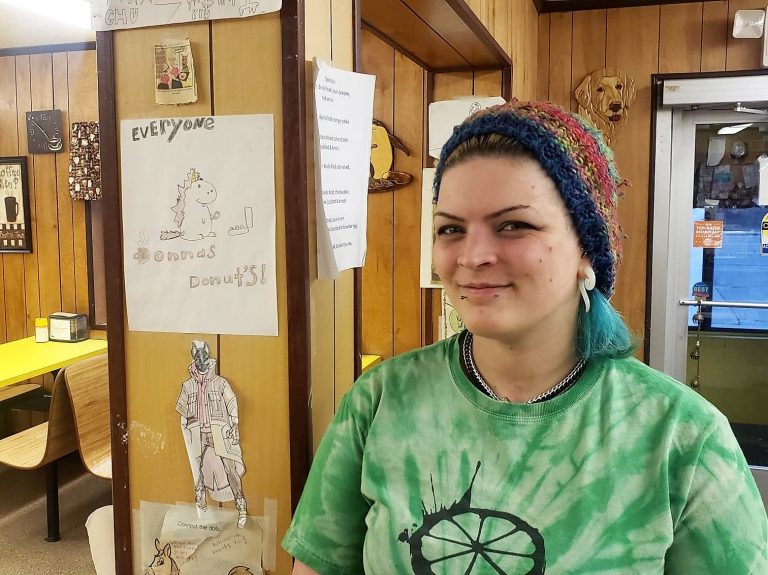 Alicia Gibbons, the third-generation owner of Donna's Donuts, has always been a part of the local business.
"Donna's was the first place I went before they took me home from the hospital," says Gibbons. "My parents and grandparents had to show me off."
The shop was originally under ownership outside Gibbon's family, but a few years after it opened her grandparents, who worked at the donut shop, fell in love and got married and together they bought Donna's Donuts.
After 34 years, Gibbon's grandparents sold Donna's Donuts to her father. Then, six years ago when Gibbons was 20 years old, her father passed away and she inherited the donut shop.
"Owning Donna's was set in stone since I was born," says Gibbons. "Every teenager tries to rebel against their parents. But when it came time, I knew I had to be the one to take it over."
For the past six years, Gibbons has been successfully growing Donna's Donuts and continues the legacy her family built.
What makes Donna's Donuts so special?
We hand make all our donuts. We don't like to put a lot of machinery into our process. We've always kept the same products and materials that we've always used.
What challenges have you had to face taking over the shop?
When I took over, I was only 20 years old. That was an overnight shock to me as well as to my employees. The loss of my father didn't just affect me, it affected my staff.
What would you say is your biggest achievement?
We've won several awards. Each one makes me appreciate our community more and more. One of the competitions we had to get a huge number of votes, but we had great backing from the community. With the support, we ended up winning number one donut shop in Michigan and number nine in the nation.
What is your business philosophy?
How would you describe Flint & Genesee to an outsider?
It's not as bad as everyone claims it is. We are growing in our own way.
Where do you like to eat and shop in Flint & Genesee?
Canton on Fenton Road is one of my favorite restaurants. Everyone makes fun of me for going there three or four times a month. For shopping, I like a lot of the second-hand shops around Flint.
Outside of business, how would you describe yourself?
Outside of Donna's, I work at the Michigan Renaissance Festival each year. Working there is one of my passions.
What advice would you offer to budding entrepreneurs?
Treat both your community and your employees well. Because your employees are your community and if you have happy employees you have happy customers.
To learn more about Donna's Donuts, visit donnasdonuts.com.