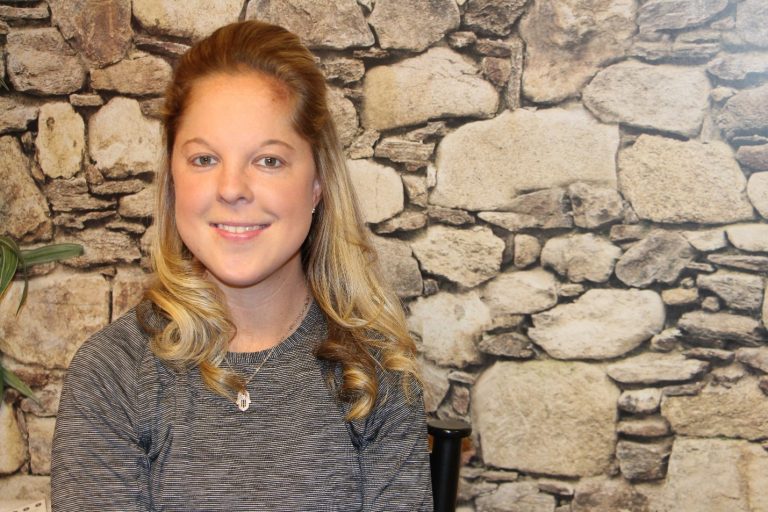 Five years ago, if you had asked Kelsey Koch what she would be doing today, she would have never said running her own yoga studio – much less being featured on SELF.com and in a Reebok social media campaign because of it.
"I thought I would be working with prosthetics, designing and making them for amputees," says Koch. "But when I started teaching yoga, it all came together. I thought 'I could actually do this for a living. And I could still help amputees while doing it.'"
Being an above-the-knee amputee since she was nine months old, Koch didn't realize all that she was capable of. It wasn't until she started working with a physical trainer at Genesys Athletic Club that she discovered what was possible.
Koch's trainer suggested she take a yoga class and with nothing to lose, she did. Koch immediately fell in love with the practice and while finishing her schooling at the University of Michigan-Flint, she took a yoga teacher training class. The rest is history.
With the support of her family, friends and community, Koch opened her Serenity Yoga in Grand Blanc March 1, 2017, and has been continually growing her business ever since.
Why did you choose to open your business in Genesee County?
It's my hometown – where I am from. I went to school here, and my friends and family are here. I couldn't imagine opening a business anywhere else. I wanted to be able to give back to the people in my community.
What is the business environment like here?
Flint and Genesee is an amazing community that comes together and takes on any challenges that are given. During my open house, I received such great community support, and that gave me hope for the future of my business.
What do you remember about teaching your first class?
How scared I was! It was a different role for me. This studio was mine and I was responsible for the students – the way they felt, the experience they had. I had to make sure that they were comfortable and wanted to come back.
What is your business philosophy?
One student at a time. As a business owner, I've learned it is not about reaching many people, it is about taking care of the person in front of you.
What have you learned so far?
It takes time to build a business. You can't get frustrated if you have slow week or month. It happens with every business. In the beginning, I thought I would open a business and the clients would just come, but as I said before, it takes one person at a time. You need to make those people want to come back and invite their friends to make your business grow.
What sets you apart from other yoga studios?
Outside of your business, what do you like to do?
Now that I have established yoga as my business I can focus on other activities. I am a golfer. I have golfed since I was a kid using plastic clubs. I am very excited to have the opportunity to coach Grand Blanc High School's junior varsity girls golf team. I love giving back to the school that I went to and hope that I can be someone to inspire the girls on the team.
What advice would you give to future or current entrepreneurs?
Utilize social media. For me specifically, I use Instagram to promote my business. I share inspirational quotes, pictures of myself doing yoga in my prosthetic and I tell my story. That's how SELF Magazine and Reebok found me.
https://www.instagram.com/p/BaUinwHhxWr/
What are your future plans for your business?
Within the next few months, I will be adding spinning classes and personal training. I want this place to be something for anyone to come to for any type of fitness. Within five years, I hope to have this place come full circle by building it up year by year.