The Michigan Works! Association has appointed Leanne Panduren, CEO, president and chair of the board at Rowe Professional Services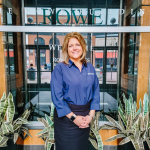 Company, to its board of directors. Panduren is a professional civil engineer by trade and her career has centered around assisting municipalities in completing a wide variety of infrastructure projects. The Michigan Works! Association's Board of Directors is a mix of public and private sector representatives who guide the organization and enable it to effectively achieve its mission.
The University of Michigan-Flint has been recognized for its commitment to helping students learn, grow and succeed as it was named to the 2022-23 Colleges of Distinction list, which is an online guide for college-bound students that honors higher education institutions throughout the U.S. for their excellence. The Colleges of Distinction selection process comprises a sequence of in-depth research and detailed interviews with the schools, accepting only those that adhere to the COD's four distinctions: engaged students, great teaching, vibrant community and successful outcomes. For more information about the awards, visit the COD website.
Travis Howell is the new executive director of the Davison Area Chamber of Commerce, effective Nov. 1. The former Davison Township trustee replaces LaDawn Hastings. Howell has a bachelor's degree from Bellarmine University in Louisville, Kentucky and a master's degree from the University of Michigan-Flint. He also serves as director of Constituent Relations and Scheduling in the Michigan Senate.
Buckham Fine Arts Project has selected Bob Campbell as its 2022-23 Writer in Residence, which is part of a collaboration that aims to engage contemporary literary arts and Flint's Black, Indigenous and other people of color (BIPOC) community. As part of the project, Campbell will write compositions corresponding to his experience attending the gallery's exhibitions through September 2023. Campbell is the author of "Motown Man," a novel published in 2020 by Urban Farmhouse Press. He also serves as manager of marketing and communications for Mott Community College.
Marcus Ebenhoeh, Building Information Modeling (BIM) Manager at Dee Cramer Inc., has obtained an Associated General Contractors Certificate of Management in BIM. This certification is an assessment-based certificate credential that denotes knowledge and understanding of concepts related to BIM adoption, practice and process. Building Information Modeling (BIM) is a process in the way buildings are planned, designed, constructed and managed through the building's lifecycle.