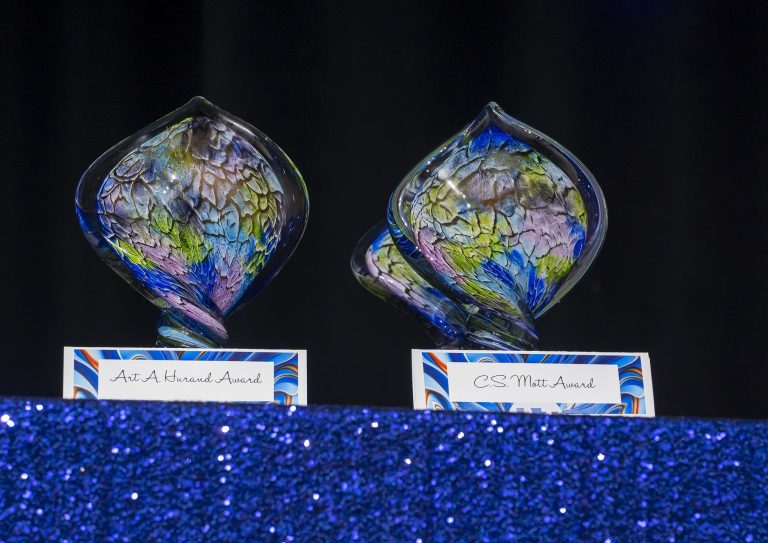 (FLINT, Mich., Nov. 3, 2022) For the eighth consecutive year, Flint & Genesee Group celebrated some of the region's most exemplary businesses, community leaders and hospitality professionals during the 2022 Art of Achievement Awards.
More than 85 businesses and organizations and 100 individuals were contenders for 14 awards that were presented this evening at the FIM Capitol Theatre in downtown Flint. Additionally, the Group recognized the recipients of this year's Art Hurand Award, C.S. Mott Award and Economic Development Project of the Year Award.
"The wonderful thing about Art of Achievement is the diverse group of people and organizations it celebrates," said Flint & Genesee Group CEO Tim Herman. "This year's honorees range from a hotel security guard with a deep passion for his job to a business that invests in the latest technologies to support early cancer detection. While they all have their own unique story, they share a commitment to excellence and play an important role in driving the success of our community."
The ceremony featured two tracks of awards, including hospitality and business. This year's honorees include:
HOSPITALITY AWARDS
Attraction of the Year Award – Back to the Bricks
Flint & Genesee Certified Tourism Ambassador Award: Jessica Lynn Taylor, CTA
Frontline Ambassador of the Year Award – Elizabeth Sykes, Envoy Airlines at Bishop International Airport
Gloria DeHart Community Champion Award – Dr. Dallas Gatlin, Carriage Town Ministries
Hotel Ambassador of the Year Award – Kenyarta Hart, Holiday Inn Express Flint-Campus Area
Hotel of the Year Award– Hilton Garden Inn Flint Downtown
Restaurant of the Year Award – Blondie's Food & Spirits
BUSINESS AWARDS
Art Hurand Award – Coach Linnell Jones-McKenney, Sylvester Broome Empowerment Village
Business Impact Award – Regional Medical Imaging
C.S. Mott Award – Steve and Rosanne Heddy
Claire M. White Award –Shane Jackson, Michigan State University Extension
Diversity, Equity & Inclusion Champion Award – Mott Community College
Economic Development Project of the Year Award – Garden Building
Minority-Owned Business Award – Prestige Janitorial Services of Michigan
Nonprofit Impact Award – FIM
Small Business Award – 3Sixty Interactive
Young Professional Leader Award – Kelly Price, McFarlan Home
The presenting sponsor of this year's event was Blue Cross Blue Shield and Blue Care Network of Michigan. Additional sponsors included: Al Serra Auto Plaza, sponsored the red carpet; McLaren Flint, the photography; Skypoint Ventures, the dessert; and ABC12, the master of ceremonies. Also, Back to the Bricks, Little Caesars/MAC Foods, Mott Community College and Yeo & Yeo served as seat section sponsors.
Individual awards sponsors included Bishop International Airport, Chase Bank, Communities First, Community Foundation of Greater Flint, ELGA Credit Union, Food Bank of Eastern Michigan, Health Alliance Plan, Huntington National Bank, Mass Transportation Authority, MLive Media Group, United Way of Genesee County and University of Michigan – Flint.
About Flint & Genesee Group
Flint & Genesee Group supports the region through its commitment to developing business, talent and place. The organization works to strengthen the Flint and Genesee County economy, and create a place where people thrive, and businesses invest and grow. Its programs and services are marketed through four divisions – Explore Flint & Genesee, Flint & Genesee Chamber, Flint & Genesee Economic Alliance, and Flint & Genesee Education & Talent. For more information, visit FlintandGenesee.org, and check us out on Facebook, LinkedIn and Twitter.