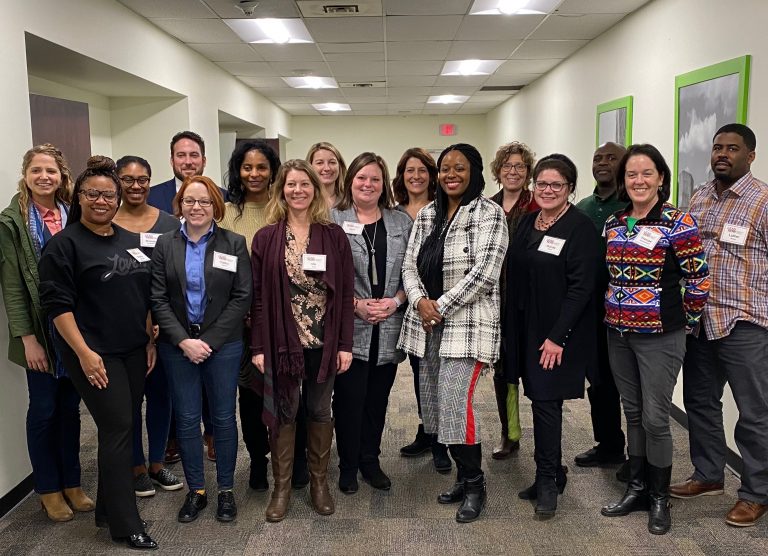 Program announces sixth cohort, issues RFP for community impact project
(FLINT, Mich., January 28, 2020) – Sixteen local professionals have been selected to participate in Lead Now Flint & Genesee, an introspective leadership development program offered through the Flint & Genesee Chamber of Commerce.
The participants in the sixth cohort, which kicked off Jan. 24, work and/or live in Genesee County and have experience in the private, public or nonprofit sectors.
"This is a group of professionals who are committed to becoming more effective leaders," said Steven Elkins, director of Member Services & Business Training at the Flint & Genesee Chamber. "Over the course of the year, they will work independently and collaboratively as they learn how to address challenges and opportunities in their communities and workplaces."
As part of the Lead Now program, each participant will undergo in-depth leadership assessments, one-on-one coaching and monthly training sessions. During this time, they will learn how to leverage different behaviors to effectively create a vision, develop followership, implement said vision and achieve results.
Participants in the 2020 cohort include:
Francee Abbott-Dereski (Hale), Sales and Business Development, Total Health Collective Companies
Sherrema Bower (Flint), Grants Specialist, Flint & Genesee Chamber of Commerce
Ronda Brinch (Linden), Human Resources Manager, Mott Community College
Luther Brown (Flint), Chief Operating Officer, John L Logistics
Corinthian Carouthers (Flint), Owner, Creative Hair School of Cosmetology
Brandee Cooke-Brown (Flint), Director of Operations, 100K Ideas
Emily de Araujo Snider (Davison), Director of Customer & Community Engagement, NorthGate
Sharita Galloway (Davison), HR Director, NorthGate
Cathy Gentry (Grand Blanc), Director of Business Operations, Sloan*Longway
Mary Heron (Grand Blanc), Literacy Coordinator, Flint Development Center Literacy Library
Jennifer Hickmott (Grand Blanc), Administrative Manager, Ferris Wheel
Tera Knoll (Clio), Nurse Manager, McLaren Flint
Ida Lee (Grand Blanc), Patient Advocate/Lobbyist, Michigan Cannabis Industry Association
Adam Michaud (Davisburg), Director of Business Development, McLaren Flint
Marcus Rankins (Grand Blanc), Vice President of Asset Development, Metro Community Development
Erica Young (Grand Blanc), Service Specialist, Michigan Department of Health and Human Services
A key component of Lead Now is its community impact project, which allows the cohort members to put what they've learned into real-word practice. For example, previous cohorts have created resources to support local youth organizations and helped the Brownell-Holmes Neighborhood Association install an outdoor library and greenspace.
To identify this year's project, the program has issued a Request for Proposal, open to 501(c)(3) nonprofit agencies in Genesee County. Project submissions for the 2020 RFP will be reviewed by the Lead Now alumni advisory committee and narrowed down to five finalists. These organizations will then present their project ideas to the Lead Now cohort on Friday, March 13. Following this session, the Lead Now cohort will select one organization to work with for the year.
For more information or to download the RFP, click here.
To learn more about Lead Now, visit flintandgenesee.org/leadnow.
Individual headshots available upon request.
MEDIA CONTACT: