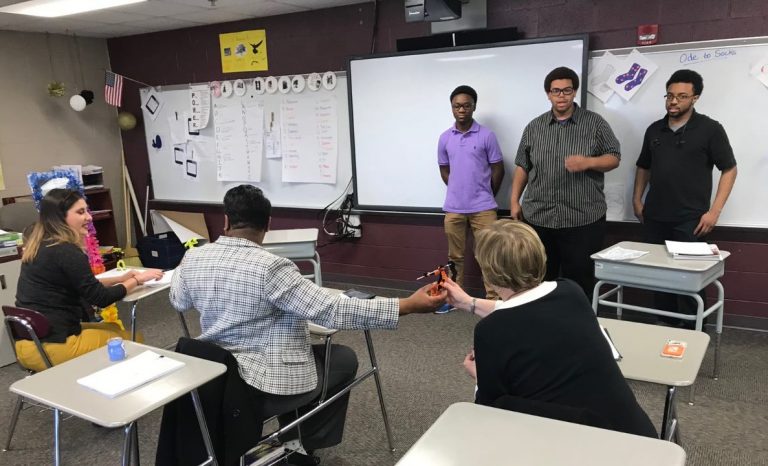 This October, members of the business community can support local youth by giving just a few hours of their time. YouthQuest, an afterschool program administered by the Flint & Genesee Chamber of Commerce, is seeking community participation in two upcoming events, where attendees can:
Judge a YQ Biz business pitch competition.
Students participating in YQ Biz will begin sharing their business plans in hopes of being one of 30 teams selected for the business expo in December.
Over the last several weeks, these "youthpreneurs" have been learning about creating business plans, developing prototypes and practicing their pitches, which they will deliver before a judging panel this month.
Each panel will consist of three local professionals, who will be given grade-specific rubrics to evaluate each business. After these evaluations are tallied, the two top-scoring businesses from each site will be awarded funding to move forward with their business plans and sell their products during the 3rd Annual YQ Biz Expo, to be held Dec. 14 at Genesee Valley Center.
Interested in showing your support? Sign up to be a volunteer judge by sending your availability to Amy Watts () for the following dates:
Monday, Oct. 28
Tuesday, Oct. 29
Monday, Nov. 4
Volunteer judges should plan to set aside about two hours for the experience, which will begin sometime between 4-6:30 p.m.
See afterschool in action.
Each year, the Afterschool Alliance nonprofit public awareness and advocacy organization coordinates a nationwide rally highlighting the importance of keeping the lights on after school and the need to invest in afterschool programs. According to data from the nonprofit's America After 3PM report, 210,386 children in Michigan participated in an afterschool program in 2014, yet 625,026 would have enrolled if a program were available.
Locally, the Flint Community Education Initiative (FCEI) and YouthQuest will recognize the 20th annual Lights On Afterschool rally with multiple community events at Flint Community Schools and International Academy of Flint. There, attendees will get to experience the afterschool programming that positively impacts Flint students in grades K-12.
While the rally will be recognized nationally on Oct. 24, FCEI and YouthQuest will host a variety of events over the course of two weeks. These include:
Wednesday, October 23:
Freeman Elementary – Lights On Harvest Night
Thursday, October 24:
Brownell Elementary – A Science and Art Celebration
Doyle-Ryder Elementary – Glow Party
Durant-Tuuri-Mott Elementary – Literacy Night
Eisenhower Elementary – Glow Party
Neithercut Elementary – Lights On Celebration
Pierce Elementary – Giant Game Night
Southwestern Classical Academy – Lit for Afterschool
Friday, Oct. 25
Potter Elementary – Halloween Party
Monday, October 28:
Holmes STEM Academy – Glow Night and Haunted Hallway
Wednesday, October 30:
International Academy of Flint – Harvest Night
Community members who would like to attend one of more of these events should contact Dawn Bye at 810-600-1422 or .
YouthQuest is made possible through the generous support of the Charles Stewart Mott Foundation and 21st Century Community Learning Centers.