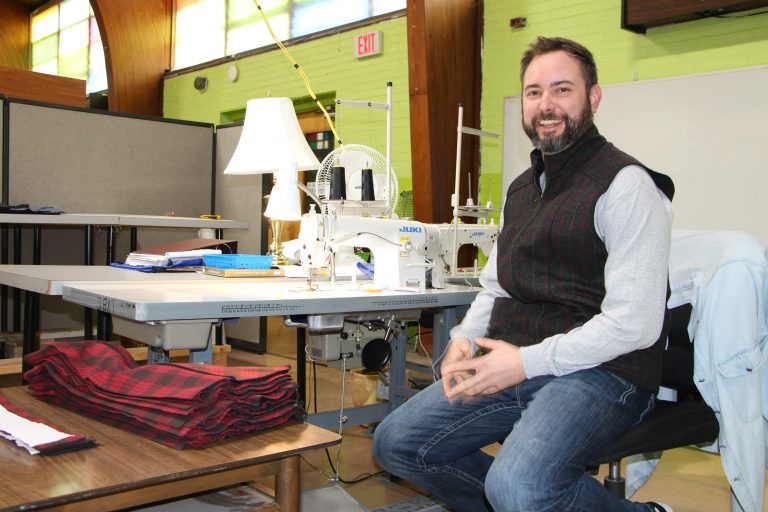 Steve Wolbert's favorite gift of all time just might be one that he received for Christmas last year: a plaid "Made in Flint" vest from Stormy Kromer – the well-known clothing manufacturer based in Ironwood, Michigan.
"Receiving that vest was one of the greatest feelings I've ever had," recounts Wolbert, a Flint native who graduated from Powers Catholic High School and Michigan State University.
To understand why, it's important to know that Wolbert co-founded Social Impact Philanthropy and Investing – also known as SIPI – with partners Nicole Chavas, Andrew Schmitt, and James Vander Hulst and advisor Rodney Stokes in 2014.
Their mission? To transform legacy cities into hubs of economic opportunity for everyone. To accomplish this, they provide nonprofits and social entrepreneurs in cities like Flint with professional support services like IT, strategic planning, marketing, accounting and HR.
One of their very first projects involved following up on a lead from the MEDC, connecting the St. Luke N.E.W. Life Center with Stormy Kromer, which was facing a growing demand for its vests.
With SIPI's help, the N.E.W. Life Center, which helps at-risk men and women become self-sufficient, took a group of women to the Upper Peninsula for a week of intensive training. They brought their knowledge back to Flint, where employees of the N.E.W. Life Center continue to sew vests for the clothing manufacturer today.
Did you always plan on opening your own business?
No. I initially wanted to be a teacher, and ended up with a degree in community relations and a master's in philanthropy development.
What is your favorite part about your job?
I love seeing the organizations that we partner with move closer to their mission. Just a few weeks ago, we were at the Urban Renaissance Center's graduate celebratory and following it, many of them received jobs working in Flint businesses. Last May, one of our computer programmers received his H-1B (a non-immigrant visa) – the look of excitement on his face when that happened was incredible.
What advice can you offer other entrepreneurs?
Every time you fail, fail fast. Try to get as much feedback from that failure as possible, so the next decision you make is a little bit more informed.
What stumbling blocks have you encountered?
Determining how to prioritize projects that drive revenue today versus those that could drive revenue in the future. And learning to say no to projects that are fun and exciting but don't have the necessary revenue that allows us to sustain and grow as a company.
How would you describe Flint to an outsider?
There are amazingly resilient, hungry, and talented people in Flint. We have the best people in the world here.  If you're interested in making a difference and adding value to a community, there's no better place to do it.
What do you do for fun in the area?
What's next?
We're expanding our IT exploration program, which aims to help people develop skills for – and an interest in — the IT field. Our pilot class was held at Southwestern Classical Academy this spring, and we will be offering three four-day day summer camps at Factory Two. In working with other area stakeholders, we hope to connect job seekers with area IT employers for preferred interviews.
To learn more about SIPI, visit sipi.solutions or www.facebook.com/sipisolutions.