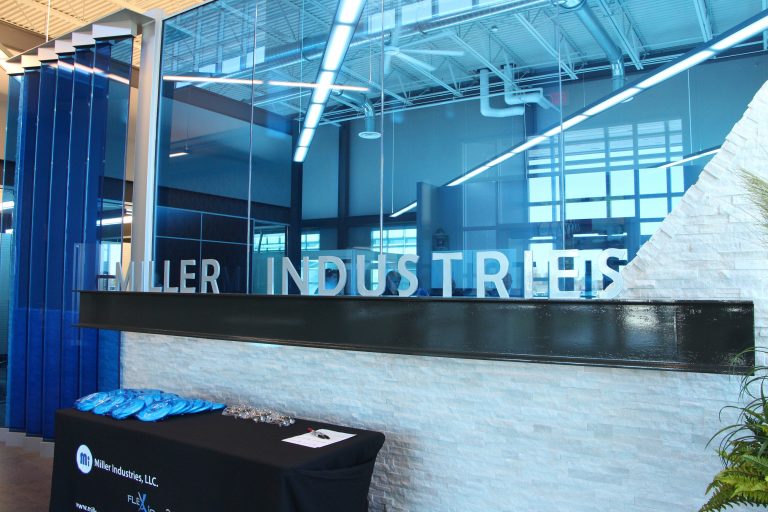 Miller Industries—a local manufacturer that specializes in custom steel fabrication and air supply systems—is set to nearly double its workforce with an $11 million-expansion to its Fenton Township location.
The company, which continues to experience increased sales, plans to add manufacturing, warehouse, and office space to its headquarters. The expansion project is expected to create 115 good-paying manufacturing jobs for an employer that is known for supporting the personal growth of its employees by encouraging cross-training and promotion from within.
Given its impact in creating what the Michigan Economic Development Corporation (MEDC) refers to as "pathway jobs," the project was recently awarded a $450,000 performance-based grant through the  Michigan Business Development Program.
"Miller Industries is a family-owned company serving both local and international clients from its homebase in Genesee County," says Tyler Rossmaessler, executive director of Flint & Genesee Economic Alliance. "This is a great example of a business that has found success in leveraging our region's workforce and strong business climate. We are excited that they have decided to expand their footprint in Fenton Township and are here to support their continued growth and investment in our community."
In addition to the MEDC grant, Fenton Township has offered a property tax abatement in support of the project and also plans to support the company with staff time and resources.
"Miller Industries' expansion will provide an impressive update to our Thompson Road corridor and bring more jobs to our community," said Fenton Township Supervisor Vince Lorraine. "We are pleased that the company, which has been a major employer in Fenton Township for years, continues to grow here."
According to Rossmaessler, the Economic Alliance team provides a wide variety of services to existing businesses in Flint & Genesee. This includes helping businesses pursue grants or financial packaging that supports eligible employee trainings, machinery purchases, or—such as in the case of Miller Industries—expansions.
"Based on the parameters of Miller's project, we knew the Michigan Business Development Program would be a good fit," Rossmaessler says. "We connected them with the MEDC and brought the necessary partners to the table. We also helped them through the incentive process, both at a state and local level."
And the support doesn't end there. Once a company receives a grant, the Economic Alliance can help assist with coordinating available federal, state, and local resources; identifying workforce solutions; and more.
"We're here to help streamline the process," Rossmaessler says. "Our goal is to ensure that these businesses, that be anywhere in the world, choose to stay right here."
In Miller's case, the company ultimately selected Fenton Township over competing sites in Kentucky, Ohio, and Tennessee. To learn more about job openings at Miller Industries, click here.
To learn more about the Economic Alliance's services, visit DevelopFlintandGenesee.org.