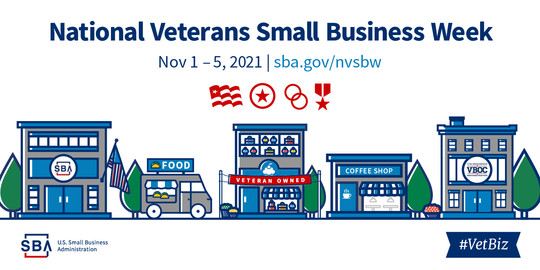 The U.S. Small Business Administration celebrates the entrepreneurial spirit and resilience of veteran small business owners during National Veterans Small Business Week, Nov. 1-5.
"National Veterans Small Business Week is a time to honor the service and celebrate the impact of our nearly 1.8 million veteran entrepreneurs who are a driving force in our economy, generating approximately $1 trillion annually and employing nearly 4 million people," said SBA Administrator Isabella Casillas Guzman. "The SBA team is committed to providing the capital, marketplace opportunities and supportive network of Veterans Business Outreach Centers so that our veterans and military spouses can continue to do what they do best – face hardships head-on to build, innovate, and adapt their businesses to survive and thrive."
In honor of National Veterans Small Business Week, the Flint & Genesee Procurement Technical Assistance Center (PTAC) is spotlighting veteran-owned businesses in the region who are among its clientele.
Debora Smith Energy Partners is a veteran-owned, woman-owned small business located in Lapeer County with continued success in defense contracting. It specializes in custom fabricated products, mechanical components, and materials and project management services for utilities and the government. A previous awardee for the Michigan Celebrates PTAC Best Small Business, Debora Smith Energy Partners has held government contracts with the Dept. of Energy, Dept. of Defense as well as clients in the commercial energy, aerospace and refining industries.
Horcha Excavating, Inc.
Horcha Excavating Tru-Wall is Genesee County's largest running poured foundation, excavating company. Horcha Excavating is a veteran-owned small business, family-owned and operated since 1977. Some of its capabilities include excavation, sitework, building pads, land clearing, demolition and more. Previously, Horcha worked with Grand Blanc Township in 2019 on the Physicians Park site work, including the ice rink and water park. Contact: or call (810) 853-8494.
Reliable Commercial Cleaning, LLC
Reliable Commercial Cleaning, LLC is a veteran-owned and operated full-service commercial cleaning company. Its services include janitorial, building cleaning, office cleaning, window washing, carpet cleaning and more. Also holding a HUBZone and MBE certification, Reliable Commercial Cleaning covers the areas of Flint, Lapeer, Fenton, Flushing and Grand Blanc.
Golden Choice, Inc. is a service-disabled, veteran-owned small business based out of Port Huron. Golden Choice is a full-service advertising specialties company offering a wide range of quality advertising and promotional products. In business since 1994, Golden Choice helps clients find a cost-effective way to market and promote their business with custom promotional items. Promotional items include apparel, bags, drinkware and various office supplies.
Vetcon, Inc. is a service-disabled, veteran-owned small business specializing in general contracting and electrical sub-contracting. Its core competencies include construction and project management, design build capacity, project scheduling and coordination, electrical construction and electrical service. Incorporated in 2014, Vetcon has worked with Selfridge Air National Guard Base, the State of Michigan DTMB, the Dept. of Veterans Affairs, Michigan State Police and more.
D & N Development
D&N Development, Inc. is a service-disabled, veteran-owned small business specializing as commercial builders, excavators, and demolition contractors. In business since 1999, its are located in Flint, Michigan and service the entire state of Michigan. Core competencies include general construction, commercial and industrial building construction, residential remodelers, demolition, excavating and more. Some of its clients includes the M.A.D.E. Institute, Salem Housing Authority, Michigan DTMB, Michigan School for the Deaf and Blind, and ACE Asphalt. Contact:
ATI Group is a service-disabled, veteran-owned small business providing value based long-term energy and systems solutions since 1986. ATI Group specializes in the following areas: energy solutions, integrated project delivery, M.E.P. engineering services, building automation integration and building analytics and professional maintenance services. ATI Group – winner of the 2014 Michigan Veteran-Owned Small Business Award – offers a broad range of comprehensive energy-savings options, helping owners identify and implement keyways of reducing operational expenses.
****
In addition, VetBizCentral, Genesee County Veteran Services and local resource partners are hosting a Veterans Day event Nov. 5, from 10 a.m. to noon, at Mott Community College Event Center, 1401 E. Court St.
Information and Resources for starting a business, researching financing opportunities, growing a business, obtaining information on veteran benefits and more. Additional organizations and agencies will be present to provide other important information for veterans and their families. Light snacks and beverages will be available.
Registration required. REGISTER NOW