On Jan. 15 watch, listen and enjoy some of America's favorite country songs performed live from Nashville by the hit songwriters that wrote them. Sit back and relax, watch on your big screen, sing along, and hear the stories behind the songs you know and love while helping to support your United Way of Genesee County.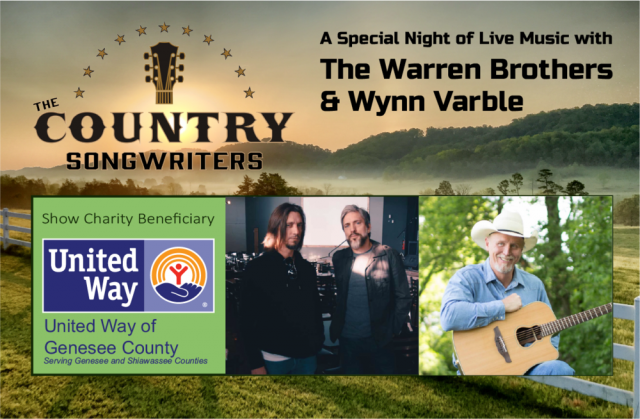 The first show featuring The Warren Brothers and Wynn Varble is scheduled to begin at 7 p.m. (6 p.m. CST). They've written hits for Brad Paisley, Tim McGraw, Toby Keith, Keith Urban, Faith Hill, Blake Shelton, Dierks Bentley, Jason Aldean, Martina McBride, Luke Bryan, Lady A, Thomas Rhett, Lynyrd Skynyrd, Cole Swindell, Little Big Town, Gary Allan, Darryl Worley and Billing Currington, to name just a few.
The second show featuring Bobby Pinson, Shane Minor, and Kylie Sackley is scheduled to begin at 10 p.m. (9 p.m. CST). They've written hits for Eric Church, Jake Owen, Sugarland, Randy Houser, Alan Jackson, Rascal Flatts, Brooks & Dunn, LeAnn Rimes, Montgomery Gentry, Trace Adkins, Jason Aldean, Keith Urban, Blake Shelton, Cole Swindell, Dierks Bentley and more.
Each live show will last approximately two hours and will include time at the end for the singer-songwriters to answer questions submitted by viewers. The shows will be hosted by Storme Warren, best known as the host of The Storme Warren Morning Show on SiriusXM's channel The Highway.
"We are so thankful to be part of such a dynamic event," said James Gaskin, CEO of United Way of Genesee County. "The funds raised provide an incredible opportunity for us to continue our COVID relief efforts for the people of Flint and greater Genesee County. Flint has seen so many struggles over the years from the water crisis to job loss and now the COVID-19 pandemic. Thank you to all the talented artists who not only are providing us with great entertainment in the midst of the pandemic, but also the ability to impact so many lives."
Tickets for each online pay-per-view show are $25, with an option to buy a two-show ticket for $44. Fifty percent of each ticket sold benefits the United Way of Genesee County. The pay-per-view show tickets can be purchased online at TheCountrySongwriters.com. This is also where each show will be viewed.
For more information, contact James Gaskin at (810) 762-0856 or .