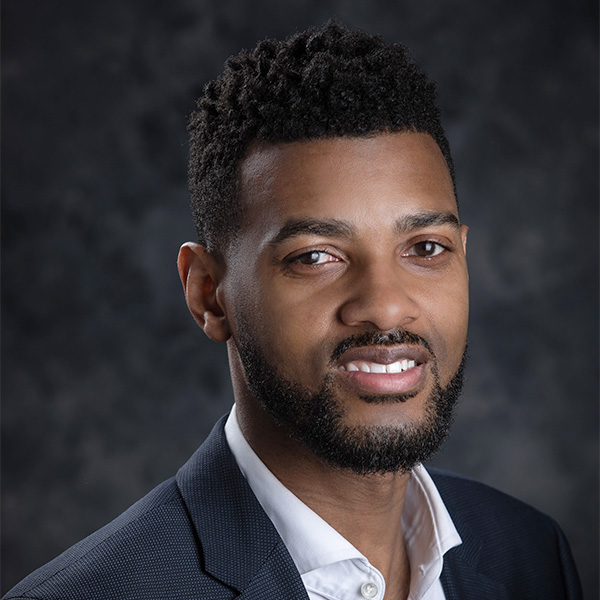 Isaiah Oliver, president and CEO of the Community Foundation of Greater Flint, has been selected as one of 23 leaders nationwide to spearhead an effort to create a more civil society and more civil discourse. Oliver is a part of the inaugural class of the Civil Society Fellowship, a partnership between the Aspen Institute and the Anti-Defamation League. This new fellowship, part of the Aspen Global Leadership Network, aims to prepare and engage the next generation of community and civic leaders, activists and problem solvers from across the political spectrum.
Civil Society Fellows will spend five weeks over the course of two and a half years in structured retreat – exploring their leadership, core values and visions for a more free, just and equitable society, as well as their desired legacies. The 23 Fellows, selected from a pool of over 200 nominees from across the country, are journalists, entrepreneurs, government officials, lawyers, educators and designers. They work for nonprofits, private industry and in law enforcement.
****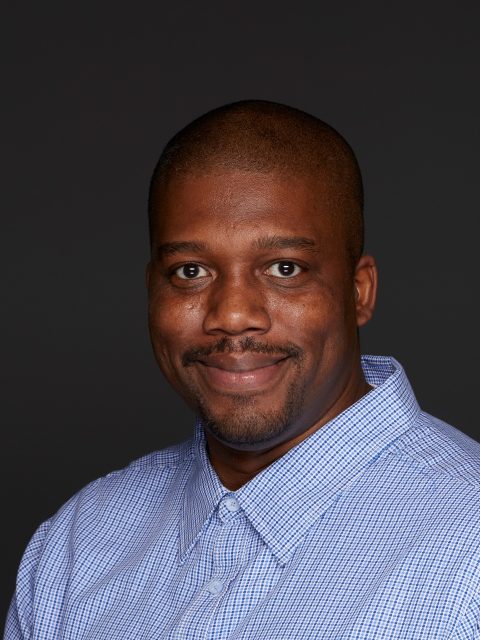 The Afterschool Alliance on Sept. 23 announced that Willie Buford, site manager at the Flint & Genesee Chamber's YouthQuest Program, has been selected to serve as an Afterschool Ambassador for the Afterschool Alliance in 2019-2020. He is one of just 15 leaders in the United States chosen for the honor this year, and one of two in Michigan. Ambassadors will continue their work supporting local afterschool programs while serving the one-year Afterschool Ambassador term, organizing public events, communicating with policy makers and community leaders, and in other ways increasing awareness and support for afterschool and summer learning programs.
"I am eager to join the Afterschool Alliance in building support for afterschool programs," said Buford. "In my eight years working in the field, I've seen time and again the extraordinary difference that afterschool makes in the lives of young people in Michigan."
YouthQuest is one of the area's most exciting and comprehensive free afterschool programs. It provides the support students need to excel, new experiences to excite their imagination and an opportunity to explore the world. YouthQuest is offered in each of the 11 Flint Community School buildings. As well as in two programs at International Academy of Flint. The free program is made possible by the generous support of the Charles Stewart Mott Foundation, the 21st Century Community Learning Centers initiative and other valuable funders.
****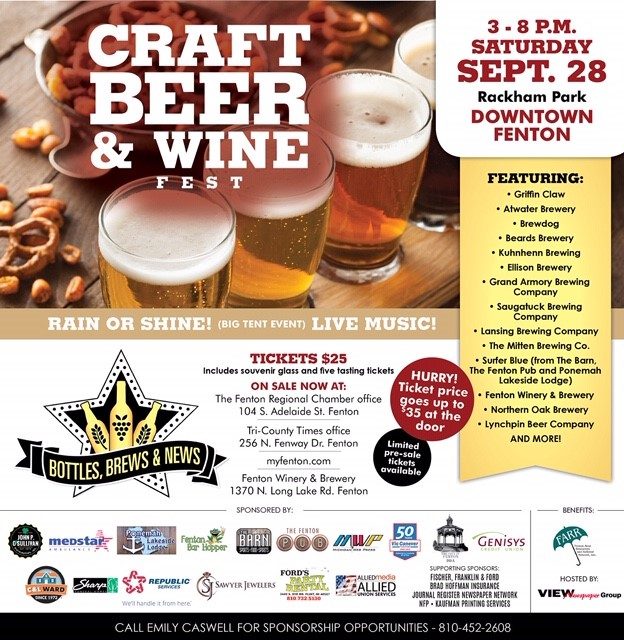 The first-ever "Bottles, Brews & News," a craft beer and wine tasting event, will run 3 to 8 p.m. Saturday, Sept. 28, in downtown Fenton. Hosted by the View Newspaper Group (parent company to Tri-County Times), the event will take place in Rackham Park and benefit FARR (Fenton Area Resource and Referral Network, Inc.). Advance tickets to Bottles, Brews & News are $25, include five tasting tickets and a souvenir glass and can be purchased at myfenton.com. For more info, contact Emily Caswell at  or (810) 452-2608.
****
3Sixty Interactive has been selected as one of the top Marketing Automation Companies in Flint by UpCity, an online marketplace that connects companies with proven digital marketing service providers and agencies, offering a directory of qualified marketing service providers across industry verticals and in local markets. Buyers are changing the way they get information, and marketers have to change the way they provide it. To be successful in today's market, buyers are self-serving and they want  the information that you provide them with to be more personalized. Marketing automation saves time, money and helps convert visitors to your website into leads. Keeping in mind behavior marketing, personalization and lead scoring, marketing automation is the answer.
****
Unfiltered Media Productions, LLC on Oct. 11 will host the first annual Marketing Unfiltered Summit – a conference for advertising and marketing professionals – at the Riverfront Center in Flint. The summit is a chance to meet and network with industry professionals to achieve marketing success. The keynote speaker is Gina Jacquart Thorsen of Stormy Kromer. For more event information, visit marketingunfilteredsummit.com or email Dale Keipert of 3Sixty Inteactive at
****
Bellevue University, one of the nation's leaders in preparing students for lifelong success with career-relevant knowledge and skills, has launched a 100 percent online Master of Science in Child, Youth and Family Studies to help address the growing need for professionals prepared and educated to address social and psychological issues affecting kids and their families. The U.S. Bureau of Labor Statistics projects that the demand for child and family social workers will increase by 14.2 percent through 2026.
Program Director David Hoppe said it is one of the few programs of its kind in the country. "This graduate program is tailored to those people who are dedicated to improving the lives of children and families," he said. There is not a specific undergraduate major requirement to begin this graduate program and does not require an internship. "Students in this program will interact and gain valuable experience with a social service agency or company, but they will be able to do it while still working full-time or raising a family," he said.
Interested students can obtain more information from Bellevue University Relationship Manager- Ashley Weiss on the Mott Community College campus at 810-965-4431 or .
****
Bishop International Airport announced the opening of a new business and flight school meant to help fill a nationwide shortage for pilots. The school, Crosswinds Aviation, is partnering with the Genesee Career Institute to offer a high school flight program to area students. Roughly 30 students started the High School Flight Program on Sept. 9. The United States is facing a serious shortage of airline pilots which has and continues to impact regional airports like Bishop. "We are in need of young aspiring aviators and we are very hopeful Crosswinds Aviation will help spur excitement in our region about aviation career opportunities," said Nino Sapone, interim airport director.
The students will have an introduction to many aspects of the industry along with 10 hours of free simulator time and computer-based ground training. Matt and Andrea Dahline own and operate Crosswinds, which has two other locations in the state.  The high school program is one of few like it. "Usually about 50 percent of the students actually pursue aviation careers. And many of them wouldn't have otherwise been exposed to aviation," said Matt Dahline.
****
American Advantage Home Care, a full-service home health care agency that provides skilled care 24/7, on Sept. 21 celebrated the opening of its Flint office with a ribbon-cutting and open house. The new Flint office – in the Stockton Center at Spring Grove, 720 Ann Arbor St., Suite 100 – serves as a regional administrative hub, supporting American Advantage's expansion into Shiawassee, Genesee, Lapeer and eastern Livingston counties.
"Our focus is helping patients maintain independence by providing compassionate, high quality care in the comfort of wherever they call home," said Cleamon Moorer, Jr. DBA, president. "This type of patient-centric care has earned American Advantage Home Care a strong reputation for the past seven years in the Dearborn area. This new Flint location allows us to provide the same quality care to those living in four additional Michigan counties."
Moorer and his wife, Nicole Willis-Moorer, of Grand Blanc, purchased the Dearborn-based agency in June 2019. Since then, they have worked to expand the agency's geographical service footprint. The Flint office is the first administrative hub outside the agency's Dearborn headquarters. American Advantage is also hiring additional clinicians and accepting new patients. The agency is accredited by The Joint Commission, the gold standard and industry benchmark for quality and safety.
****
Flint & Genesee Chamber welcomed new members in August:
AJ Johnson Construction Company LLC, 3442 N. Linden Road, Flint
Birch Run Premium Outlets, 12240 S. Beyer Road, Birch Run
Kuhmute Inc., 615 S. Saginaw St., Flint
Medstar, Inc., 3005 Claude Ave., Flint
Mosley Consulting, LLC, 1219 Leroy St., Fenton
Shine of Fenton, 1400 Torrey Road, Suite D, Fenton
****
Send submissions for personnel updates to . Photos are optional.