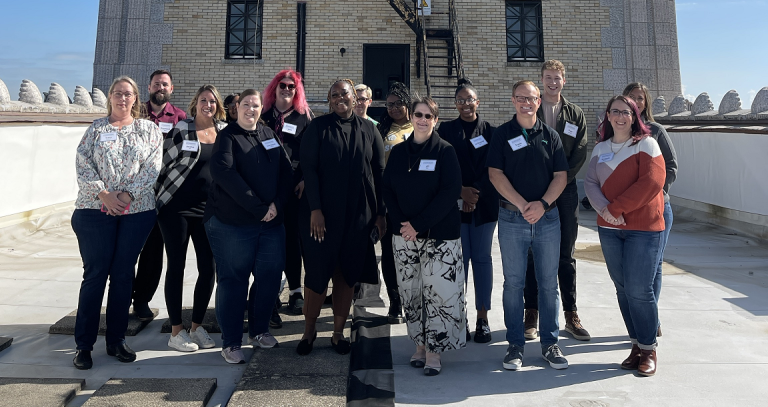 Leadership Flint & Genesee issues RFP for nonprofits with community impact project 
(FLINT, Mich., Sept. 19, 2023) – It's been a decade since the Flint & Genesee Group first launched its leadership development program to help area professionals become more effective leaders. And as the program kicks off its 10th year with 15 new participants, it does so under a new name. What was previously known as Lead Now is now Leadership Flint & Genesee. 
"Leadership Flint & Genesee builds upon the strong foundation set by its predecessors including Leadership Flint and Leadership Genesee," said Brianna Mosier, director of Organizational Development at the Flint & Genesee Group. "Not only does this rebrand pay homage to those leadership development programs, it also reinforces our connection to the community we serve. With an alumni base of more than 100 local leaders, we look forward to Leadership Flint & Genesee's next chapter." 
The 2023-24 cohort met for their first training on Sept. 15, kicking off eight months of one-on-one coaching and monthly training sessions focused on creating a vision, developing followership, implementing said vision, and achieving results. 
Participants in the 2023-24 cohort work and/or live in Genesee County. They include: 
Kaylah Baker (Flint), Sylvester Broome Empowerment Village

 

Ruth Banks (Flushing), Volunteer

 

Raymond Barry (Fenton), GST Michigan Works! 

 

Amanda Blackburn (Fenton), Flint & Genesee Group

Tracy Butcher (Goodrich), Entrepreneur 

 

Lindsay

Dinsmore (Clio), Vienna Township Business Development Authority

 

Marquetta Hall (Flint), The Flint Freedom Schools Collaborative

 

Jessica Hill (Davison), Michigan Vascular Center

 

Travis Howell (Davison), Davison Chamber of Commerce

 

Ja'Shawna Jones (Holly), 100K Ideas 

 

Laura Mauck (Grand Blanc), Flint Children's Museum

 

Christina Pichey (Flint), Michigan Vascular Center

 

Jill Sodt (Mt. Morris), Mott Community College

 

Kristen Trevarrow (Swartz Creek), S.C. & Company, L.L.C.

 

Paul Zehnder (Flint), 100K Ideas 

 
A key component of Leadership Flint & Genesee is its community impact project, which allows the cohort members to put what they've learned into real-world practice. For example, the 2022-2023 group worked to develop a marketing and business plan for Kayak Flint, a project of the Flint River Watershed Coalition and its chapter, the Corridor Alliance. 
To identify this year's project, the program has issued a Request for Proposal, open to 501(c)(3) nonprofit agencies in Genesee County. Project submissions for the 2023-24 RFP will be reviewed by the Leadership Flint & Genesee alumni advisory committee and narrowed down to three finalists. These organizations will then present their project ideas to the Leadership Flint & Genesee cohort in November. Following this session, the cohort will select one organization to work with for the remainder of the program. 
To submit your proposed project, please complete this application and return via email to by or before Oct. 20.  
To learn more about Leadership Flint & Genesee, visit FlintandGenesee.org/LeadershipFlintGenesee. 
Individual headshots available upon request.