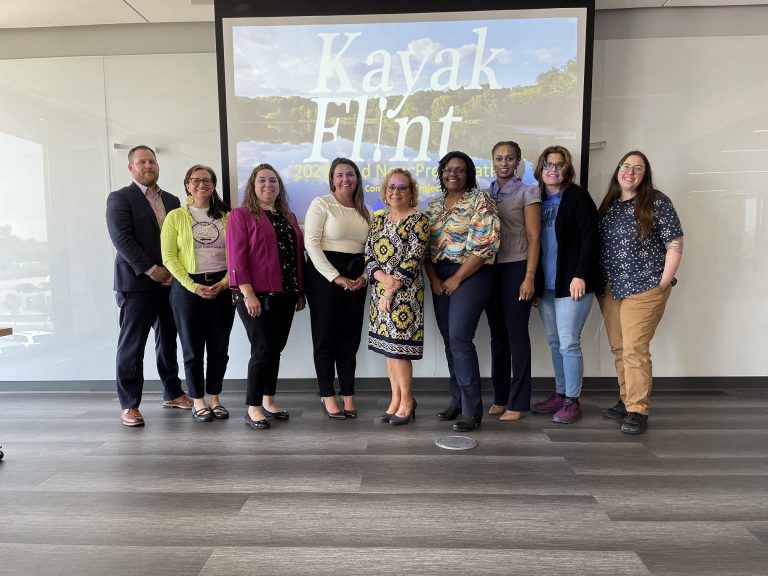 Informational sessions for 2023-24 cohort to be held June 20
(FLINT, Mich. – June 6, 2023) The Flint & Genesee community is stronger as eight local professionals have completed the latest round of Lead Now Flint & Genesee. The introspective leadership development program from the Flint & Genesee Group teaches current and emerging leaders how to effectively create a vision, develop followership, implement said vision, and achieve results.
For Joyce Sanders, the program – which includes in-depth leadership assessments, one-on-one coaching, and monthly training sessions – was instrumental in helping build her confidence after taking on a management role for the first time.
"I had never led a team before and was struggling with how to be assertive, delegate, and take on that leadership role," said Sanders, who now oversees the Be Ready Enrichment Services at NorthGate. "Through Lead Now, I learned so much about myself, how I interact with groups, and what I bring to the table. That has been immensely valuable to me, and I'm so grateful I had that opportunity."
A key component of the Lead Now curriculum is its emphasis on experiential learning — completed in part through a capstone project. For the 2023 group, members worked to develop a marketing and business plan for Kayak Flint, a project of the Flint River Watershed Coalition and its chapter, the Corridor Alliance.
"On the surface, increasing the number of kayakers on the river may have seemed like a simple project to take on," said Chris Engle, dean of Counseling and Student Development at Mott Community College. "But given our community's history facing multiple water crises, it was much more complex and something our team wanted to begin to tackle."
According to Engle, the cohort aimed to help guide the organization through developing sustainable business practices, while emphasizing the need to focus efforts on rebuilding relationships and trust between community members and the river.
The plan will enhance Kayak Flint's efforts to restore the confidence and connection of residents with both the organization and the Flint River, said Jaime Welch, paddling programs manager for the Flint River Watershed Coalition.
"Safe water recreation includes more than just offering safety equipment, it also means having a welcoming environment in which residents can create a positive relationship with the river and the people involved with it," Welch said. "This project will greatly assist Kayak Flint as we continue our efforts to protect, promote, and improve the Flint River Watershed, and we are very excited to implement this plan."
Among the members in the 2022-2023 graduating cohort are the following professionals who work and/or live in Genesee County:
Corinthian Carouthers II (Flint), Creative Hair School of Cosmetology
Chris Engle (Grand Blanc), Mott Community College
Faith Groesbeck (Flint), City of Flint
Brandy Moeller (Lapeer), City of Burton
Joyce Sanders (Flint), NorthGate
Angi Scheidman (Pinckney), University of Michigan Credit Union
Beth Warden (Fenton), University of Michigan Credit Union
Jill White (Fenton), The State Bank
Applications for the 2023-24 cohort are now open. All applicants are required to attend an informational session, the last of which will be held  June 20.
For more information or to register for an informational session, visit FlintandGenesee.org/Lead-Now or call 810-600-1451.
Individual headshots of Lead Now graduates are available upon request.