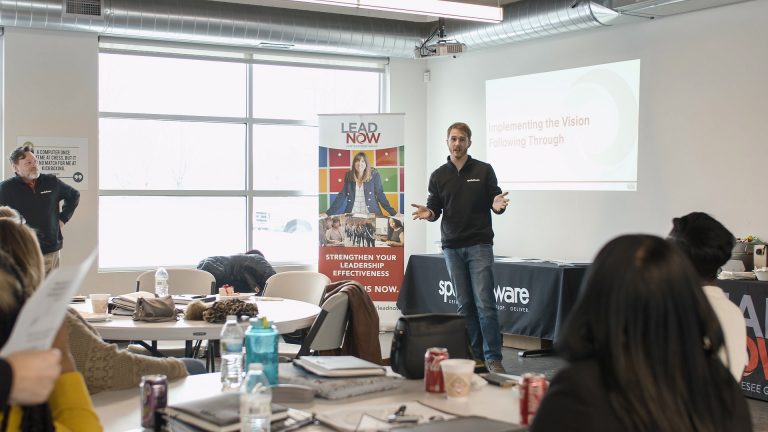 Applicants required to attend one of three informational sessions
(FLINT, Mich. – May 4, 2023) – Calling all business, nonprofit, and municipal professionals: It's time to take your leadership skills to the next level. As Lead Now gears up for its 10th year, the Flint & Genesee Group's introspective leadership development program is now accepting applications from area professionals who live and/or work in Genesee County.
"Over the last decade, Lead Now has helped more than 100 local leaders unlock their potential," said Brianna Mosier, executive director of Organizational Development at the Flint & Genesee Group. "You can find our alumni driving change throughout the community, be it through their professional work, volunteer service, or personal lives."
Over the course of the eight-month program, each participant undergoes an in-depth leadership assessment to identify areas for development. They also participate in one-on-one coaching and monthly training sessions focused on creating a vision, developing followership, implementing said vision, and achieving results.
A key component of Lead Now is its community impact project, which allows the cohort members to put what they've learned into real-world practice. For example, the 2022 group worked with the Food Bank of Eastern Michigan to address the volunteer shortage the local nonprofit experienced after temporarily pausing its volunteer program due to the coronavirus pandemic.
According to Mosier, the program provides participants with a safe space for self-reflection, network building, and practical application of the lessons learned.
The 2023-24 session will kick off in September and run through May 2024.
Applications for the 2023-24 cohort are due by July 3 at 4 p.m. All applicants are required to attend an informational session, held virtually on June 6 or at the Flint Farmers' Market June 1 and June 20.
Lead Now Flint & Genesee is a member of Association of Leadership Programs, which works to advance the effectiveness of leadership programs and professionals throughout the United States.
To learn more, or to apply, visit FlintandGenesee.org/Lead-Now.