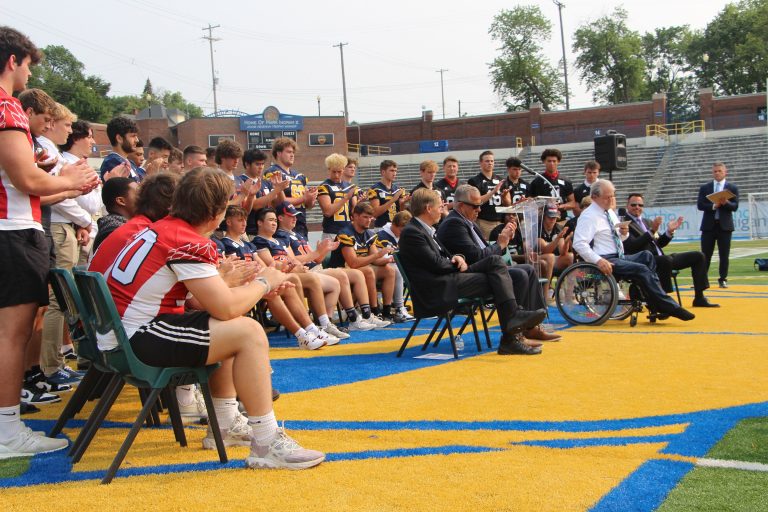 Event returns after a one-year pause due to the coronavirus pandemic
(FLINT, Mich., June 20, 2021) – Kettering University's Atwood Stadium will host the fourth-annual Flint & Genesee Vehicle City Gridiron Classic to kick off the 2021 high school football season with two days of doubleheaders, beginning on Aug. 26.
This year's games will feature matchups between intra-county rivals as well as Genesee County schools taking on visiting schools from neighboring counties:
Thursday, Aug. 26
4 p.m. – Goodrich vs. Frankenmuth
7:30 p.m. – Powers  vs. Flushing
​Friday, Aug. 27
4 p.m. – Grand Blanc vs. East Lansing
7:30 p.m. – Linden vs. Pontiac Notre Dame Preparatory
Organizers said that this year's event is special because of the havoc COVID-19 wreaked on high schools sporting events in 2020 and into the new year. Most high school football games were cancelled or rescheduled, as the nation grappled with the pandemic.
Therefore, the 2021 Vehicle City Gridiron Classic will pay tribute to the dedicated and hardworking medical professionals by offering them free admission to the games, with medical identification.
For all others, tickets are $8 at the gate (free for children 5 and under). Tickets may also be purchased online at GoFan.co or on the GoFan app. Online sales will go live within the next week or two. Parking is $5.
"We are excited to host the Vehicle City Gridiron Classic again at Kettering University's Atwood Stadium," said Kettering University President Dr. Robert K. McMahan. "With the events of the past year, we are proud to play a part in the community being able to come together again."
"We are pleased to announce the participating high schools for the 2021 Vehicle City Gridiron Classic that kicks off the football season in Genesee County," said Genesee County Circuit Judge Duncan Beagle, president of the Vehicle City Sports Committee. "After a one-year hiatus due to COVID, our student athletes will burst onto the field at Kettering University's historic Atwood Stadium ready to play some exciting football.  We will also honor the medical professionals who were so vital in saving lives during the pandemic.  We invite the community to come out and help us celebrate these dedicated men and women and join in the excitement of some greatly anticipated and highly energetic football."
"The Vehicle City Gridiron Classic is a showcase event for Flint & Genesee," said Tim Herman, CEO of the Flint & Genesee Group. "The energy and enthusiasm of the spectators filling the stands at Atwood Stadium – the finest venue for high school football in the state – is simply fantastic. And it's a great fit with our community's expanded list of athletic attractions, including the Flint Firebirds, the Flint City Bucks, Flint United and the world-renowned Crim Festival of Races."
The 2021 Flint & Genesee Vehicle City Gridiron Classic is sponsored by Al Serra Auto Plaza, Hurley Medical Center and Dort Financial Credit Union.
About Kettering University
Kettering University, formerly known as GMI, is a Flint, Michigan-based private, nonprofit university recognized as one of the nation's premier science, technology, engineering and business leaders in higher education. Dedicated to offering a curriculum that uniquely integrates classroom learning with experiential co-operative opportunities, Kettering consistently ranks in U.S. News & World Report's listing for elite specialty schools. The University has more than 27,000 square feet of lab and research space used by faculty, students and industry collaborators, and houses the first and only FIRST Robotics Community Center on a college campus in the United States. According to a 2019 analysis of federal data ranking 4,500 schools nationwide, Kettering University degree holders have the highest lifetime return on investment (ROI) in the state of Michigan. The University celebrated its centennial year in 2019. For more information go to kettering.edu.
About the Flint & Genesee Group
The Flint & Genesee Group (FGG) supports the region through its commitment to developing business, talent and place. Working through its four divisions – Flint & Genesee Chamber; Flint & Genesee Economic Alliance; Flint & Genesee Education & Talent; and Explore Flint & Genesee – as well as with community partners, the FGG aims to improve the quality of life for residents and position the region as a choice destination for businesses, residents and tourists alike.
Media Contact
Mona Murphy, Secretary
Flint & Genesee Vehicle City Gridiron Classic

810-348-9208