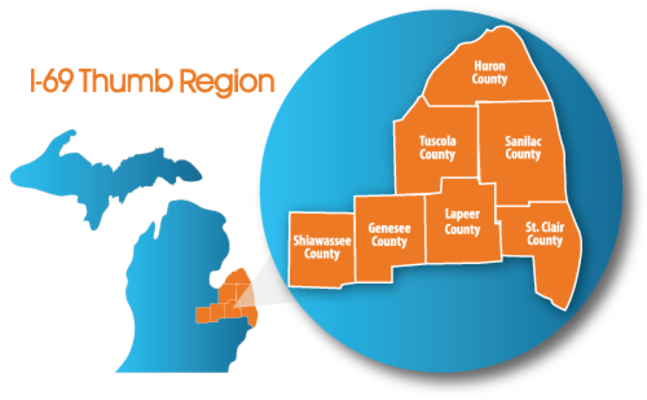 Flint & Genesee Economic Alliance, I-69 Thumb Region and partners seek area manufacturers for survey
(FLINT, Mich., June 22, 2021) – The Flint & Genesee Economic Alliance – in partnership with the Michigan Economic Development Corp. (MEDC), its fellow economic development partners in the I-69 Thumb Region, Automation Alley and the Michigan Manufacturing Technology Center – is kicking off a new initiative that aims to make area manufacturers more competitive through the adoption of Internet-based technologies.
"Embracing Industry 4.0 will be a key factor in determining which companies are successful in the future," said Tyler Rossmaessler, executive director of Flint & Genesee Economic Alliance, one of the seven partners in the I-69 Thumb Region. "Our goal is to ensure that local manufacturers have a competitive advantage by providing them with resources that will increase their understanding around these technologies and motivate them to implement these technologies in their workplace. In doing so, they will see the benefits of improved efficiencies, increased production and lower costs."
According to Rossmaessler, examples of Industry 4.0 technologies include artificial intelligence, 3D printing, robotics, augmented and virtual reality, the Cloud and cybersecurity.
The year-long I-69 Thumb Region Industry 4.0 Initiative begins this week with a short survey for manufacturers in the I-69 Thumb Region, which covers Genesee, Huron, Lapeer, Sanilac, Shiawassee, St. Clair and Tuscola counties. The initiative will also involve additional activities, demonstration events and outreach that will occur throughout the year. The effort will provide engaged companies with the opportunity for training grant funding for new employees and upskilling existing employees on Industry 4.0 technologies.
Additionally, the Michigan Manufacturing Technology Center is currently conducting assessments of Industry 4.0 readiness with area manufacturers and also will be collaborating with I-69 Thumb Region partners on the project.
This regional initiative falls under the umbrella of the broader MEDC Industry 4.0 initiative, which aims to drive 4.0 readiness in small and mid-sized manufacturers statewide and ensure that 50 percent of Michigan manufacturers are prepared to adopt Industry 4.0 technologies at some level by 2025. To meet its objectives, the MEDC awarded 10 grants to non-profit organizations and educational institutions in Michigan in order to meet its objectives. This included a grant to the I-69 Thumb Region, which was awarded $138,000.
In addition to the Flint & Genesee Economic Alliance, the I-69 Thumb Region partnership includes the Economic Development Alliance of St. Clair County which will manage the project and serve as fiduciary; Huron County Economic Development Corporation; Lapeer Development Corporation; Sanilac Economic Development Corporation; Shiawassee Economic Development Partnership; and Tuscola Economic Development Corporation.
To complete the I-69 Thumb Region Industry Readiness Survey, click here.