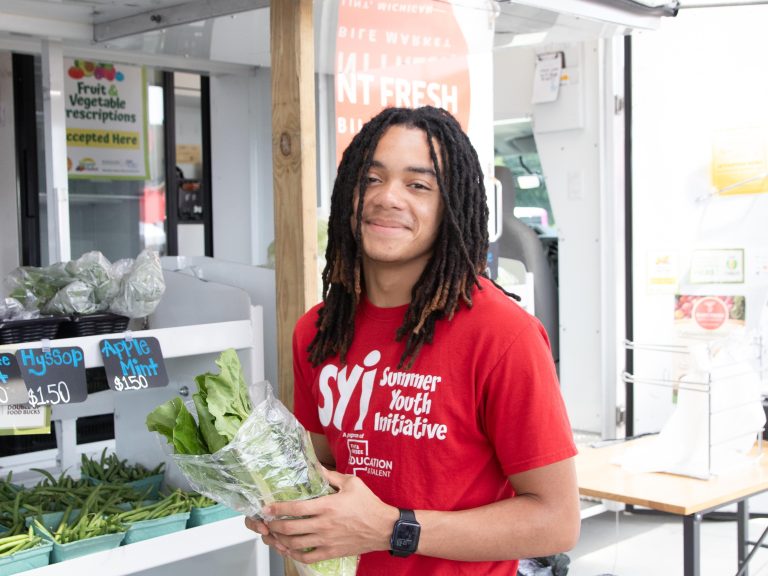 TeenQuest sessions to be held after school at five schools this fall
(FLINT, Mich. 09/12/2023) This fall, high school students grades 9-12 and ages 14-19 are eligible to attend TeenQuest, a pre-employment training program, and pre-requisite to Flint & Genesee Education & Talent's Summer Youth Initiative (SYI) – a summer employment program that employs hundreds of teens each year. 
"We just wrapped up our 2023 SYI program where 170 students were placed in summer jobs with one of our 26 employer partners in the nonprofit and for-profit spaces," says James Avery, director of Talent Development for Flint & Genesee Education & Talent. "We are looking forward to providing this opportunity to more students next year. But, in order to prepare for summer employment, students must complete TeenQuest." 
TeenQuest teaches students important skills they can use to get and keep a job as well as valuable leadership skills they can take with them no matter what path they take.  
Broadus Buchanan, a Grand Blanc High School graduate who is currently attending the University of Michigan-Flint, got a job this past summer through SYI at Mara Technologies working as an Operator B. This opportunity gave him a great experience that he hopes to carry with him into a career in engineering. 
"I was responsible for testing units before they reached the customer," says Buchanan. "It gave me a lot of insight on how things are made and produced." 
Buchanan took TeenQuest during his sophomore year of high school, and he credits the program with preparing him when applying and interviewing for summer jobs. To him, the program gave him a leg up compared to his peers. 
"When interviewing, [TeenQuest graduates] are different than others in your age group," says Buchanan. "You walk up, give a firm handshake, and know how to help yourself. After TeenQuest, employers are like, 'I want them,' because people who aren't in TeenQuest aren't like that." 
Between now and the end of 2023, teens in Genesee County have the opportunity to attend TeenQuest at the following schools. 
First session: 
Bendle High School

 

International Academy of Flint

Kearsley High School

 

Madison Academy

 
Second session: 
Beecher High School

Carman Ainsworth High School

 

Linden High School
For more information and to apply, visit EducateFlintandGenesee.org/TeenQuest.